Back to all Press Releases
Crown Prince, Prince William visit CPF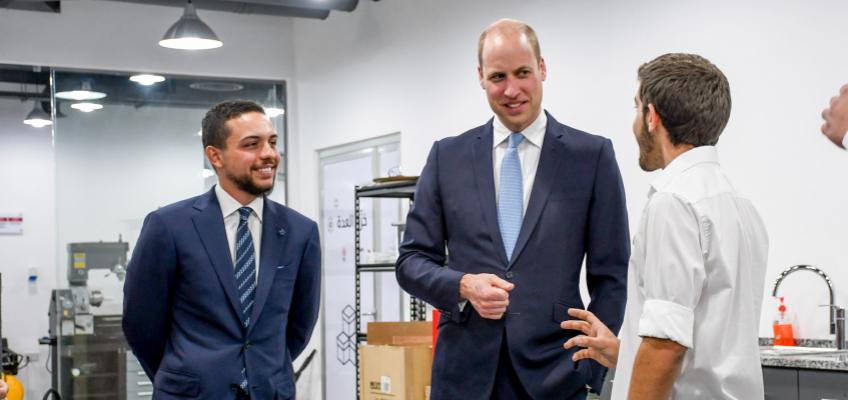 His Royal Highness Crown Prince Al Hussein bin Abdullah II, the Regent, accompanied Prince William, Duke of Cambridge, on a visit on Sunday to the Crown Prince Foundation (CPF), which administers Crown Prince Al Hussein's initiatives targeting youth.
The tour included the TechWorks fabrication lab (FabLab), where beneficiaries of various initiatives presented the projects they have designed and implemented.
CPF CEO Tamam Mango explained the key pillars of the foundation's work and its initiatives, highlighting the facilities of the TechWorks FabLab, which is equipped with the technology to promote technical education and bring together youth, ideas, and resources to unleash the power of Jordan's innovation ecosystem.
Students from Al Hussein Technical University, which is affiliated with the CPF, presented engineering projects they have designed and fabricated, namely a six-axis potentiometer controlled robotics arm, a smart drawing robot, a vending machine, a design of a quad-coptor autopilot system, and a bio-mechanics hand operated by ECG/EEG signals.
Beneficiaries of the CPF's Haqiq initiative, which focuses on honing young people's leadership skills and promoting volunteerism and community service, presented a Bluetooth-controlled table lamp, and a dual axis solar source tracker.
Students participating in the Masar initiative, which seeks to launch Jordan's first nanosatellite, presented a prototype of the nanosatellite designed by young Jordanians.
Also during the visit, Crown Prince Al Hussein and Prince William, through web conferencing, spoke to a number of young Jordanians from cultural and creativity clubs around the Kingdom.
CPF Board of Trustees Chairman Fawaz Zu'bi presented Prince William with a souvenir designed and fabricated at the TechWorks FabLab.