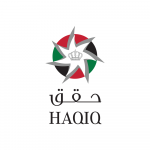 (Promoting the values of citizenship, leadership, and community service)
Haqiq is a youth leadership initiative established with the aim of promoting a system of values inherited from our history among youth in Jordan, and highlighting their capacity to be active citizens, while fostering a sense of belonging to their country to become contributors to the development process of the Kingdom.
The students participating in the initiative progress through several stages. At each stage, their capacities for teamwork are developed to build team spirit and strengthen leadership notions, thus extending their knowledge and skills.
Haqiq was launched in 2013 and targets male and female school students from across the governorates. It is currently being conducted in partnership with the Ministry of Education and is embedded as one of its programs and activities. The initiative is gradually implementing its activities in all the Kingdom's schools. It focuses on developing young people's life, personal, leadership, and social skills in a manner that fosters belonging, loyalty, and active citizenship. It also promotes volunteerism in a way that serves the needs of Jordanian society.