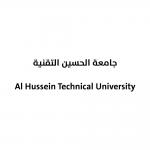 (A pioneering model for the advancement of education, vocational and technical work)
Al-Hussein Technical University (HTU), a CPF initiative, is a non-profit private university established to enhance technical education and provide the labor market with qualified youth trained in technical disciplines. HTU is characterized by its focus on the practical application of all its theoretical courses in its state-of-the-art engineering workshops and science laboratories established in partnership with both the industrial and business sectors. HTU adapts to the latest dynamics, developments, and requirements of the labor market and contains non-traditional courses to empower students through the provision of 21st century and work skills. The education provided by HTU is centered around the four academic fields of science, technology, engineering, and math (STEM).
HTU offers students degrees ranging from technical diplomas to bachelor's degrees. The University's faculty are specialized staff with practical experience from the engineering, industry and business sectors.
HTU+ Technical Academy, which the University is seeking to launch in 2023, will be a milestone in the technical education sector. HTU+ aims to increase the demand for vocational and technical education and training in Jordan and consequently achieve a fundamental change in the perception of vocational and technical education. This is to be accomplished by offering high quality, in-demand programs certified by both local and international certification frameworks and institutions. The programs will be provided in close collaboration with the private sector to ensure the relevance of their offerings and thereby increase the employability of graduates.
HTU's Website: https://www.htu.edu.jo