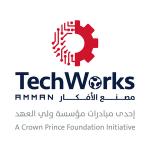 (Enriching the innovation ecosystem to find entrepreneurial solutions)
TechWorks is a digital fabrication lab with state-of-the-art equipment that aims to support innovations and young Jordanian innovators. It works towards promoting technical learning and strengthening Jordan's innovation eco-system by bringing together young people and ideas. TechWorks also brings together researchers, students, and innovators allowing them to create prototypes for their products by utilizing advanced digital fabrication technologies.
TechWorks opens its doors to all ages and professional groups in Jordan and is accessible to those with disabilities. In addition, TechWorks conducts visits to all the governorates of the Kingdom and runs several training programs for youth. Through the assistance of local and international experts, it aims to stress the importance of digital fabrication. This is why TechWorks opens its door to the public, allowing them to convert ideas and designs into tangible products.