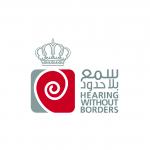 "Through the [Hearing Without Borders] initiative, we can make Jordan free of hearing disabilities. In Jordan, our strength is in our people. Each person has a voice and every voice is heard. This is the message upon which the Hashemites built this country".
Crown Prince Al Hussein Bin Abdullah II
The vision is to have a Jordan free from hearing disabilities, and the mission is to provide all support and assistance for the rehabilitation of deaf children who receive cochlear implants, to provide the needed language therapy and training for these children and to create community awareness on the cause of deafness. 
Treat deaf children through cochlear implants.
Establish centres across Jordan for the rehabilitation of deaf children who receive cochlear implants.
Train rehabilitation specialists to provide language therapy for children.
Train the families of children who receive cochlear implants to help their children to speak.
Create awareness on the causes of deafness, which mainly results from the marriage of relatives or from meningitis.
Conduct a survey to identify the cases of hearing disability and ways of treating these cases with the support of the public and private hospitals and the number of children who could benefit of this initiative.
Create a database for all the hearing tests of new born babies.
In 2003, the first cochlear implant in Jordan was performed, upon Royal directives, by a team from the Royal Medical Services in collaboration with foreign medical teams. Since then, cochlear operations have continued and today Jordan is home to a pool of specialised experts in this field.
Since 2003, more than 500 operations have been performed, upon Royal directives, in three medical institutions which are the Royal Medical Services, Prince Hamzah Bin Al Hussein Hospital and King Abdullah I University Hospital.
In 2013, HRH Crown Prince Al Hussein Bin Abdullah II advised to find permanent solutions to hearing disabilities in Jordan. Consequently, the initiative has, since then, been expanding, and the number of cochlear implants has been increasing.
In 2013, 106 cochlear implants were performed against 150 in 2014. Moreover, 215 cochlear were secured until end of 2014 within the same initiative. 
Numbers:

Approximately 172,000 children are born in Jordan every year. Two children in each one thousand births have congenital hearing defects.

Currently, there are approximately 19,000 deaf Jordanian citizens.

Most of those who suffer from hearing disabilities cannot fully communicate and interact with the community although they have learned sign language.