Back to all Press Releases
Crown Prince attends World Youth Forum opening ceremony in Sharm El Sheikh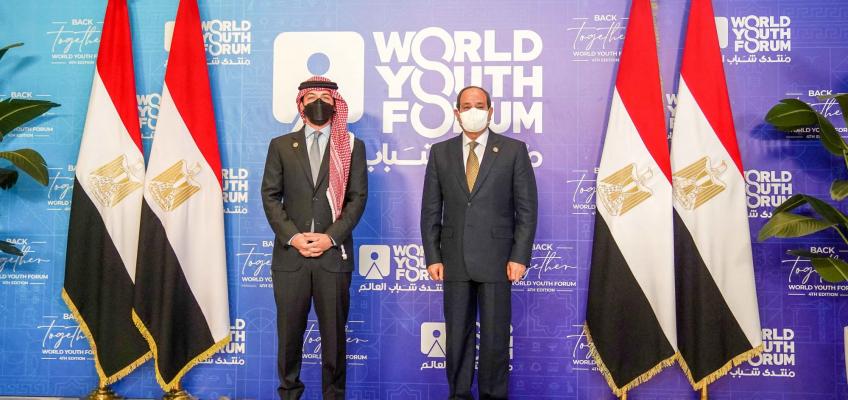 Sharm El Sheikh—His Royal Highness Crown Prince Al Hussein bin Abdullah II on Monday attended the opening ceremony of the fourth World Youth Forum, held in Sharm El Sheikh.
The forum, inaugurated by Egyptian President Abdel Fattah El Sisi, is held from 10 to 13 January, with the participation of experts and nearly 3,000 young men and women from around the world, including 28 Jordanians.
Speaking at the opening session, President El Sisi called for collective global action to overcome challenges, end conflicts, and advance the causes of humanity and peace, noting that the forum has become a platform for dialogue between young people and global decision-makers.
The ceremony also showcased several youth success stories from various parts of the world, as well as recorded messages from World Health Organisation Director General Tedros Adhanom Ghebreyesus, UN High Commissioner for Refugees Filippo Grandi, and World Bank Group President David Malpass highlighting the important role of youth in steering development around the world and countering global challenges.
The World Youth Forum, launched in 2017, engages youth from around the world with policy-makers and experts to promote the exchange of views on key global issues.
This year's topics include the repercussions of the COVID-19 pandemic, climate change, social protection, human rights, entrepreneurship, the digital transformation, remote learning, and the future of energy. 
The forum aims to present implementable policy recommendations and initiatives that address the aspirations of young people.
Minister of Youth Mohammad Salameh Al Nabulsi, Jordan's Ambassador to Egypt Amjad Adaileh, and Crown Prince Office Director Mustafa Khalifeh attended the opening ceremony.