Back to all Press Releases
King patronizes ceremony to mark Prophet's Birthday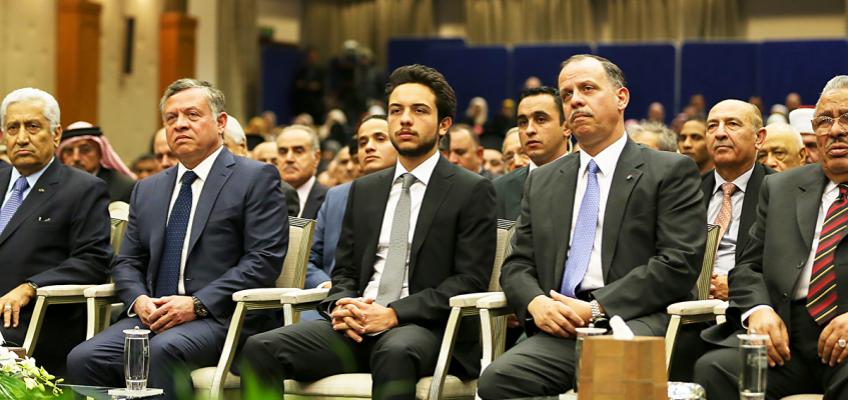 Amman -- His Majesty King Abdullah II accompanied by HRH Crown Prince Hussein on Sunday, attended a ceremony held by the Ministry of Awqaf and Islamic Affairs at the Royal Culture Centre in Amman to mark Prophet Mohammad's birthday.

In addresses during the ceremony, speakers paid tribute to various great qualities of the Prophet. They said that the life and deeds of Prophet Mohammad called for love, justice, equality, protecting human rights and acceptance of others. 

The Minister of Awqaf and Islamic Affairs, Hayel Abdulhafez Dawud, said that the message of Islam, carried by the Prophet, is a message that built a true civilization under which humanity flourished for centuries. 

Dawud added, "Today, we are fighting a bloody war against terrorism and extremism which is being falsely spread in the name of Islam." He stressed, "Defending Islam's image and message is our duty, and the war on terror is our war, as His Majesty the King said, not the others."

Former Sudanese Minister of Awqaf and head of the Islamic Fiqh (Jurisprudence) Academy in Sudan, Essam al-Bashir, praised His Majesty the King's efforts to defend the image of tolerant Islam. 

Al-Bashir said, "Your Majesty came up with a constructive initiative, which was announced to the whole world, the blessed Amman Message, that warned of extremism and expiation and was endorsed by the international conferences and jurisprudence academies because it represents a way out for the nation from expiation and extremism crisis."

Royal family members, senior officials and religious figures and scholars attended the ceremony.