Back to all Press Releases
Deputising for King, Crown Prince inaugurates Ritz-Carlton Amman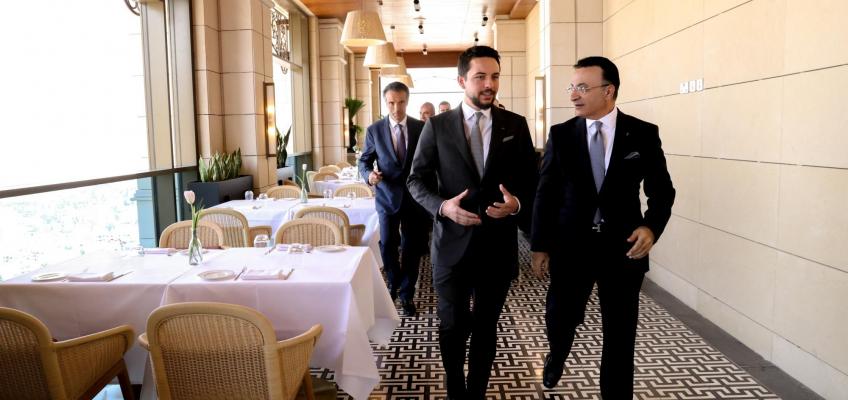 Deputising for His Majesty King Abdullah, His Royal Highness Crown Prince Al Hussein bin Abdullah II on Tuesday inaugurated The Ritz-Carlton hotel in Amman, a project with an investment value of JD300 million.
Crown Prince Al Hussein toured the 20-storey hotel, which includes 228 guest rooms, built according to the highest international standards.
The hotel provides 500 job opportunities, 90 per cent of which are for Jordanians.
His Royal Highness listened to a briefing on the hotel, which includes 34 major suites, seven restaurants and cafes, a 1,050 square metre Grand Ballroom, four meeting rooms, and three boardrooms.
The hotel also includes a full-service spa and wellness centre, in addition to a number of indoor and outdoor temperature-controlled pools, as well as six treatment rooms.
Samer Fakhouri, the executive chairman of Eqbal Estate Development and Hotels, which is in charge of developing and operating the hotel, said the inauguration of the Ritz-Carlton is in implementation of the Royal vision to position Jordan as a major tourist destination and provide strategic real estate investments that will have wide-reaching, positive impacts on the national economy.
For his part, Tareq Derbas, general manager of the Ritz-Carlton, Amman, said the hotel's design is inspired by Jordan's unique culture, history, and natural landscapes, with Roman and Nabatean architectural features given modern reinterpretations throughout the hotel.
Tourism Minister Nayef Al Fayez said the opening of the Ritz-Carlton in Amman will have a positive impact on the tourism sector in Jordan, in terms of services provided to tourists, as well as enhancing the investment environment and providing job opportunities.
Amman Mayor Yousef Shawarbeh, Director of the Office of the Crown Prince Mustafa Khalifeh, and Sandeep Walia, CEO, Middle East of Marriott International, of which the Ritz-Carlton Hotel Company is a subsidiary, attended the inauguration.