Back to all Press Releases
Crown Prince witnesses signing of MoU to build capacities of university students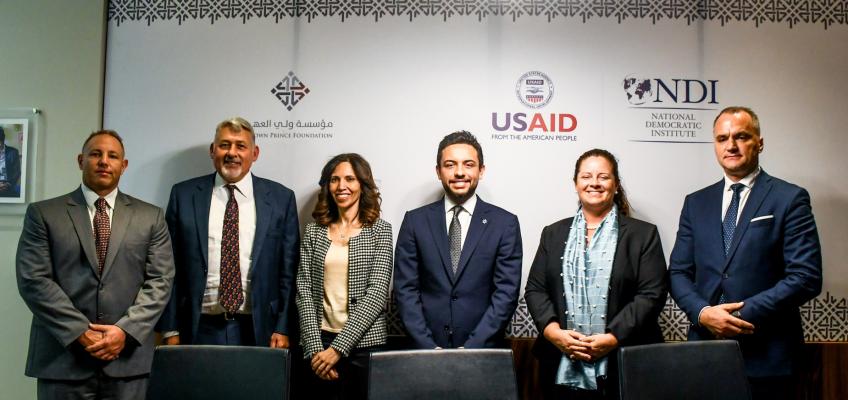 His Royal Highness Crown Prince Al Hussein bin Abdullah II on Monday witnessed the signing of a memorandum of understanding (MoU) between the Crown Prince Foundation (CPF), the National Democratic Institute (NDI), and the United States Agency for International Development (USAID) to support the "Ana Usharek" programme for university students.
The programme is aimed at empowering university students and building their capacities in social work.
Under the MoU, the CPF will adopt "Ana Usharek" and build on its current achievements, after its implementation in 24 university campuses by NDI with the support of USAID.
The organisations will work jointly on offering training opportunities to university students, enhancing their knowledge, increasing their engagement in community service, and empowering them to implement awareness raising campaigns for local causes.
Crown Prince Al Hussein stressed the importance of the MoU, which is in line with efforts to engage young Jordanians, hone their skills and empower them to expand their role in society.
CPF CEO Tamam Mango, NDI Senior Country Director Arianit Shehu, and Acting USAID Mission Director Nancy Eslick signed the MoU.
At a meeting preceding the signing, His Royal Highness listened to a briefing by Mango on how the MoU falls within CPF's strategy, with the goal of building the capacities of Jordanian youth in a holistic and sustainable manner and encouraging their participation in programmes that promote positive citizenship and equip them with the skills and tools to lead dialogue.
She added that the partnership with NDI and USAID would support other CPF youth development initiatives, such as "Haqiq", which aims to expand its outreach to include various age groups with the help of strategic partners.
NDI Senior Country Director Shehu said the partnership with CPF would nurture a generation of young people capable of achieving their aspirations.
US Embassy Chargé d'Affaires Paul Malik said that by signing the MoU, the United States is keen on empowering young Jordanians and honing their skills.
Over 35,000 students have participated in "Ana Usharek", which focuses on democracy, tolerance, political engagement, and positive communication.