Back to all Press Releases
Crown Prince visits Royal Film Commission – Jordan, calls for investing in Jordanian filmmaking talents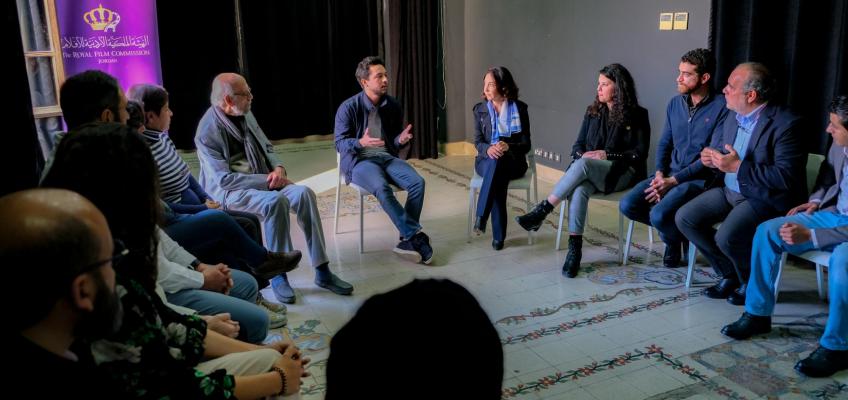 His Royal Highness Crown Prince Al Hussein bin Abdullah II on Tuesday visited the Royal Film Commission – Jordan (RFC) and was briefed on its services and activities.
Crown Prince Al Hussein met with Her Royal Highness Princess Rym Ali, who is a member of the RFC's board, and with a number of Jordanian filmmakers, producers, and actors who highlighted their experience and achievements, as well as the challenges they face and their aspirations for the local film industry, while commending the RFC's support.
His Royal Highness stressed the need to invest in Jordanian talents and Jordan's diverse landscapes to develop the film industry and attract international production companies, praising what has been achieved already in this domain.
Bringing in international studios to shoot their productions in Jordan would reflect positively on the economy and promote the Kingdom's tourist and heritage sites, the Crown Prince said.
During the visit, His Royal Highness toured the RHC's facilities and was briefed by Princess Rym on the commission's goals to enable young people to express themselves by unleashing and honing their talents in cinema and television.
Her Royal Highness also highlighted the services provided by the RFC to facilitate the filming of local, Arab, and international productions in Jordan.
Princess Rym added that the RFC, founded in 2003 by His Royal Highness Prince Ali bin Al Hussein who chairs its board, works to promote Jordan as a global filming destination.
The RFC also provides training at the local and regional levels for aspiring filmmakers, and its Jordan Film Fund provides support for film and TV projects to enable filmmakers to tell their stories and develop the film industry.
During the visit, the Crown Prince watched a short video that featured clips from local and foreign films shot in Jordan and highlighted the activities and workshops held by the RFC.