Back to all Press Releases
Crown Prince visits PSD to follow up on His Majesty's directives on road traffic safety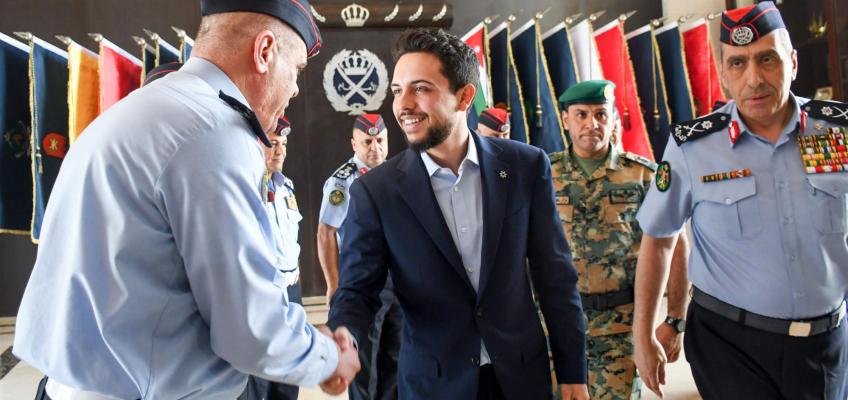 His Royal Highness Crown Prince Al Hussein bin Abdullah II on Wednesday visited the Public Security Directorate (PSD) to follow up on His Majesty King Abdullah's directives on enhancing road safety.
During the meeting with PSD Director Maj. Gen. Fadel Hmoud, Crown Prince Al Hussein conveyed King Abdullah's greetings and pride in security agencies.
His Royal Highness stressed the need for measures to reduce traffic accidents, emphasising that Jordanians' lives are precious and that the responsibility of protecting them is shared by all, including security agencies, institutions, and the public.
The Crown Prince expressed appreciation for the efforts of PSD personnel and the responsibility they shoulder in carrying out their daily tasks, as traffic incidents affect every Jordanian household.
His Royal Highness called for stepping up cooperation to reduce the number of road accidents, adding that he has too often paid condolences to families of young Jordanians who died in traffic accidents.
The Crown Prince also urged the PSD to continue implementing its plans to ensure public safety, commending their efforts in this regard. 
During the visit, His Royal Highness was briefed on the PSD's development and modernisation plans, as well as the latest figures on road deaths, injuries and damages.
For his part, PSD Director Maj. Gen. Hmoud noted that His Majesty's directives and the attention given to road safety by the Crown Prince motivate and support PSD personnel as they work with various partners to develop a traffic safety strategy.
Maj. Gen. Hmoud said the PSD will launch a public awareness campaign to promote traffic safety.
The Crown Prince's visit also included a tour of an exhibition that houses the latest equipment and technology introduced to traffic policing in order to enhance traffic control, enabling PSD departments to carry out their duties effectively. 
According to PSD statistics, there were 107,489 traffic accidents during the first eight months of 2019, resulting in 417 deaths and 11,477 injuries.