Back to all Press Releases
Crown Prince supervises preparation of aid plane for Gaza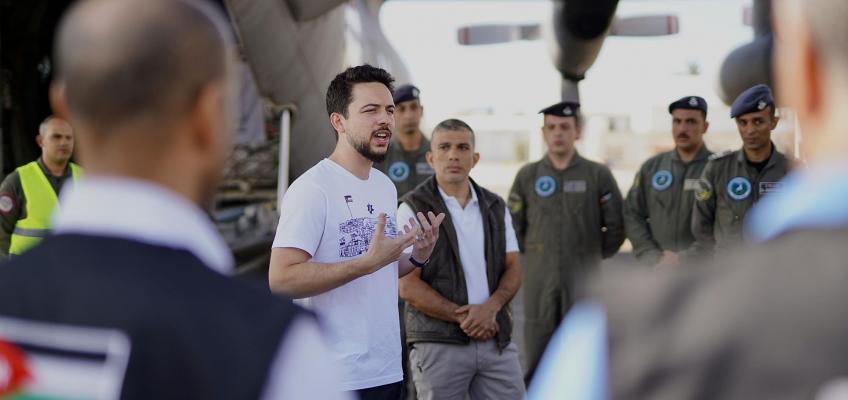 His Royal Highness Crown Prince Al Hussein bin Abdullah II on Friday supervised the preparation of a Jordanian plane carrying humanitarian and relief aid for the Palestinians in Gaza.
At Marka Military Airport, Crown Prince Al Hussein bid farewell to the plane crew, headed to El Arish Airport in Egypt, from where aid will be delivered to Gaza.
Speaking at the airport, the Crown Prince highlighted that the dispatch of aid reflects Jordanians' solidarity with the Palestinians, reaffirming that what Jordan does for Palestine comes from a deep-rooted belief in brotherhood based on unwavering morals and principles.
His Royal Highness added that the Palestinians must ultimately live on their land in peace and gain their right to establish their state, no matter how long injustice continues.
The Crown Prince warned against Israel's collective punishment policy in its war on Gaza, stressing that policies that target innocent civilians and impose a siege on them violate international law.
His Royal Highness rejected the cutting of water, medicine, food and electricity supplies to pressure the Palestinians, describing it as unacceptable and inhumane.
His Royal Highness Prince Rashid bin El Hassan, chairperson of the Jordan Hashemite Charity Organisation's board of trustees, and JHCO Secretary General Hussein Shibli were also present to see off the plane.
The JHCO is the entity responsible for preparing and dispatching aid.