Back to all Press Releases
Crown Prince meets Pope Tawadros II of Alexandria, Patriarch of the See of St. Mark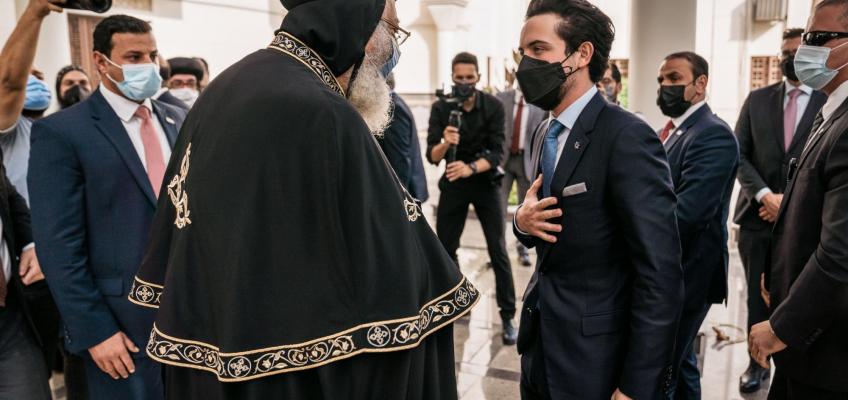 Cairo—His Royal Highness Crown Prince Al Hussein bin Abdullah II on Wednesday visited St. Mark's Coptic Orthodox Cathedral in Cairo, the Seat of the Coptic Orthodox Pope, and met with Pope Tawadros II of Alexandria, Patriarch of the See of St. Mark.
Crown Prince Al Hussein conveyed His Majesty King Abdullah's greetings to the Pope, noting His Majesty's keenness to promote interfaith harmony and mutual understanding, in line with the historical role of the Hashemites.
His Royal Highness stressed the important role of the Coptic Orthodox Church in bolstering peace and interfaith dialogue.
The Crown Prince highlighted the diverse religious tourism destinations in Jordan, such as Christian pilgrimage sites, especially the Baptism Site of Jesus Christ, expressing Jordan's keenness to increase the number of Coptic pilgrims visiting these sites.
Pope Tawadros II asked His Royal Highness to convey his greetings to His Majesty, expressing appreciation of the King's role as custodian of Islamic and Christian holy sites in Jerusalem.
The Crown Prince toured an exhibition held at the cathedral by Jordan's Ministry of Tourism and Antiquities and the Jordan Tourism Board (JTB) to promote religious tourism in the Kingdom.
Prime Minister Bisher Khasawneh, Tourism Minister Nayef Al Fayez, Jordan's Ambassador in Cairo Amjad Adaileh, JTB Managing Director Abed Al Razzaq Arabiyat, and Crown Prince Office Director Mustafa Khalifeh accompanied His Royal Highness on the visit.