Back to all Press Releases
Crown Prince highlights growing potential for business process, IT outsourcing in Kingdom at launch of "Jordan Source"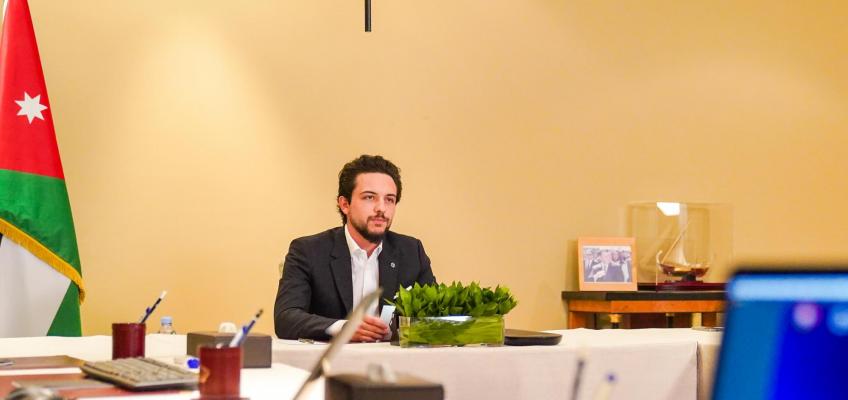 His Royal Highness Crown Prince Al Hussein bin Abdullah II on Wednesday attended the launch of "Jordan Source", which seeks to promote regional and international investments in business process outsourcing and IT outsourcing in the Kingdom.
In remarks at the webinar held to launch "Jordan Source", attended by over 200 participants from around the world and representatives of local and global companies that operate in Jordan in the fields of BPO and ITO, Crown Prince Al Hussein said "Jordan Source" is a new resource to make it even easier for investors to tap into Jordan's qualified IT workforce.
His Royal Highness said the Kingdom boasts a dynamic entrepreneurial and start-up culture, noting that Jordan's quality talent delivers a well-educated, bilingual, and tech-savvy workforce, all of which have encouraged major multinational ICT companies to invest in the Kingdom.
Jordan's tech talents have an outsized impact, extending far beyond the country's borders, the Crown Prince stressed, adding that 27 percent of the Middle East and North Africa's tech entrepreneurs are Jordanian, although Jordan's population accounts for only 3 percent of the region.
His Royal Highness called for benefiting from Jordan's strategic location at the crossroads of Asia and Europe, with free trade agreements that offer access to 1.5 billion customers in 161 countries.
Speaking at the webinar, Minister of Digital Economy and Entrepreneurship Ahmad Hanandeh said Jordan's ICT sector has great growth potential, offering highly skilled human resources, as well as the supporting infrastructure, legislation, and incentives.
The minister highlighted the incentive plan offered through "Jordan Source", outlining why Jordan counts as a major BPO and ITO destination.
For his part, World Bank Vice President for Middle East and North Africa Ferid Belhaj noted the competitive advantages that Jordan enjoys, positioning it as a potential regional IT hub.
Belhaj said the Kingdom offers a highly educated and skilled workforce, as well as an entrepreneurship ecosystem that has developed over the past decade.
He stressed the World Bank Group's commitment to supporting Jordan in implementing reforms that enhance investors' experience and support the growth and holistic expansion of outsourcing services outside Amman.
"Jordan Source" falls under the umbrella of the Ministry of Digital Economy and Entrepreneurship's Youth, Technology, and Jobs project, financed by the World Bank Group, and seeks to capitalise on Jordan's ICT strengths.