Back to all Press Releases
Crown Prince attends part of eighth Gaming Summit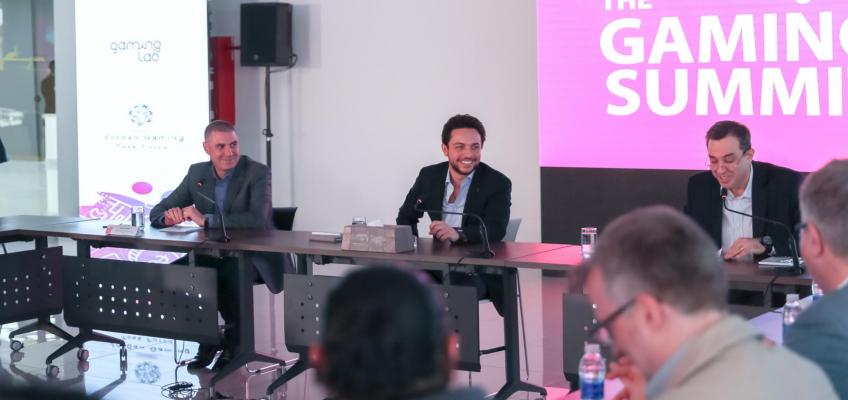 His Royal Highness Crown Prince Al Hussein bin Abdullah II on Sunday attended a discussion panel on the gaming industry in Jordan and the Arab world, held as part of the eighth Gaming Summit, which opened in Amman on Saturday under the theme "Technology at its Best".
Held at the Royal Tank Museum, with the participation of Jordanian, Arab and international companies, as well as independent developers, the panel covered means to support participants by enabling them to innovate and network among themselves with the goal of developing the gaming industry in Jordan and promoting its products in the global market.
Crown Prince Al Hussein welcomed the participants and stressed the importance of harnessing youth's creative energies, especially in the growing gaming industry, which would provide job opportunities for young people.
His Royal Highness also noted that the two-day summit, held at the King Hussein Business Park with the participation of 700 young local and international game developers, enables Jordanian developers to exchange expertise with their peers in other countries, some of whom represent major international gaming companies.
During the session, a partnership between the King Abdullah II Fund for Development and Steel Media, which organises the global Pocket Gamer Connects activities.
Under the partnership, the Gaming Summit in Jordan will be held as part of the Pocket Gamer activities.
Participants at the session called for honing the skills of Jordanian game developers in design, programming, and commerce, suggesting holding training programmes for them with global companies.
They urged the creation of an investment fund and called for developing the Jordan Gaming Lab to enable local companies to coordinate with global counterparts.
The Crown Prince was also shown the mobile Jordan Gaming Lab, which showcased a number of game designs based on the creative input of young Jordanians.