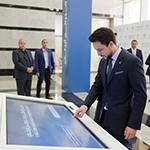 (Teaching the language of the age, coding)
The One Million Jordanian Coders Initiative is an online platform that aims to enhance the capacities of Jordanian youth to match the demands of the labor market by providing the language of the present: programming. In addition, the initiative offers free of charge training and issues international certificates that qualify the youth to enter the sector.
The initiative is implemented in partnership with the Ministry of Digital Economy and Entrepreneurship and in collaboration with the Ministry of Cabinet Affairs of the United Arab Emirates.
Those wishing to register can visit the initiative's website  https://jordaniancoders.com/