Back to all Press Releases
Prince El Hassan accompanies Crown Prince on tour of RSS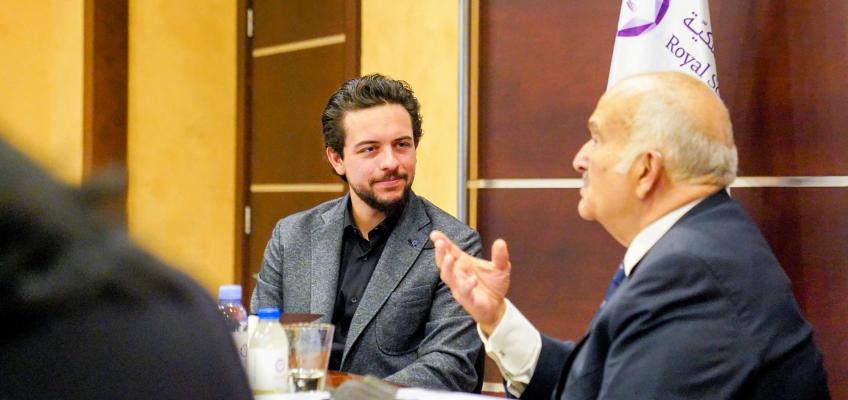 His Royal Highness Prince El Hassan bin Talal, founder and chairman of the Board of Trustees of the Royal Scientific Society, on Tuesday accompanied His Royal Highness Crown Prince Al Hussein bin Abdullah II, the Regent, on a tour of the RSS.
Prince El Hassan spoke about the goals and mission of the RSS, which was established in 1970 upon the directives of His Majesty the late King Hussein.
Prince El Hassan and Crown Prince Al Hussein—accompanied by Her Royal Highness Princess Sumaya bint El Hassan, RSS president—toured the various buildings of the RSS, visited the Jordan National Metrology Institute, and viewed respirators manufactured by the Jordan Design and Development Bureau in cooperation with the RSS.
During the tour, the Crown Prince spoke with a number of workers and students at the scientific research laboratories, which provide research and mentorship opportunities for junior researchers across the Kingdom.
Princess Sumaya provided a briefing on the RSS' efforts in the areas of vocational and technical training, by honing the skills of youths and job seekers.
The mechanical engineering workshop team at the RSS presented success stories related to the training provided through the society's programmes to engineers, university students, and other beneficiaries, to supply the labour market with a skilled workforce.
The RSS, which offers services to the public and private sectors, is one of Jordan's largest applied research institutions, and is a consultancy and technical support service provider.
The Crown Prince was accompanied by Crown Prince Office Director Mustafa Khalifeh, Crown Prince Foundation CEO Tamam Mango, and Al Hussein Technical University President Ismael Al Hinti.