Back to all Press Releases
King, Queen, and Crown Prince receive top Tawjihi achievers; King says excelling human capital a source of pride for Jordan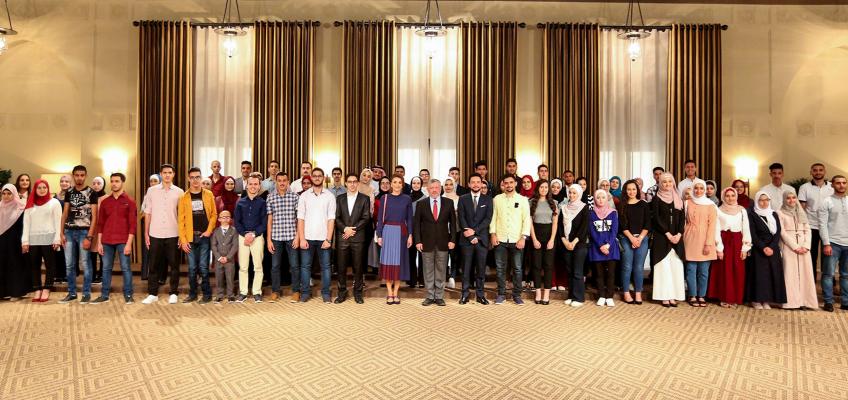 Their Majesties King Abdullah and Queen Rania Al Abdullah, and His Royal Highness Crown Prince Al Hussein bin Abdullah II on Tuesday received top General Secondary Education Certificate Examination (Tawjihi) achievers for the 2018-2019 scholastic year at Al Husseiniya Palace.
The meeting highlighted other academic success stories by students with disabilities and students suffering from cancer, and celebrated the positive impact of teachers and school principals, as well as the important role of the parents.
King Abdullah congratulated the students on their achievement, expressing pride in the global reputation of Jordan's outstanding human capital and offering his full support to the students while urging them to continue contributing to Jordan's progress.
His Majesty, after hearing from the students about their academic journey and ambitions for the future, commended their achievements and determination, wishing them further success in pursuing their aspirations.
Moreover, the King praised the important role of teachers in supporting academic excellence, telling the teachers and principals: "Your positive influence is evident and the results make us all proud."
His Majesty stressed the importance of having these educators present at Tuesday's meeting, noting that through them, he sends a message of thanks to all educators who have exerted efforts to ensure students' excellence.
Speaking to the teachers and principals, the King told them they will leave a lasting impact on their students, as the late King Hussein has left a lasting impact on him as a father, teacher and mentor.
For their part, the students, teachers and school principals thanked Their Majesties and the Crown Prince for hosting them, pointing out that the meeting reflects a Royal keenness to nurture excellence and support students as they seek to achieve their ambitions.
Royal Hashemite Court Chief Yousef Issawi, Adviser to His Majesty for Communication and Coordination Bisher Khasawneh, Adviser to His Majesty for Policies and Media Kemal Al Nasser, Minister of Education and Minister of Higher Education Walid Maani attended the meeting.