Back to all Press Releases
King, Crown Prince extend best wishes to Jordanian, Palestinian Christians on occasion of Christmas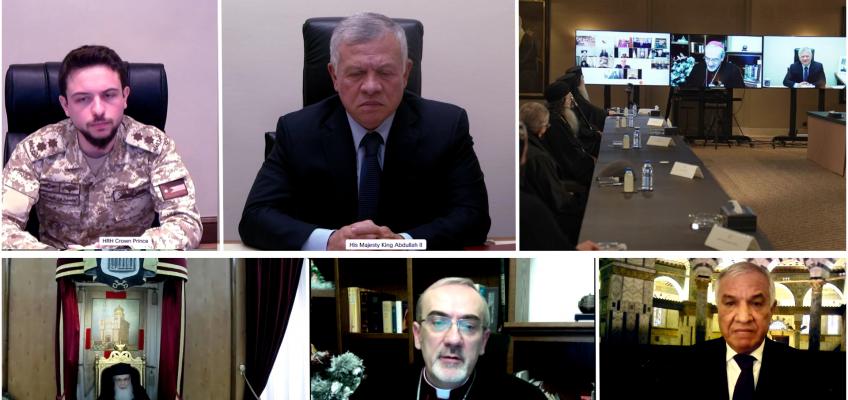 His Majesty King Abdullah and His Royal Highness Crown Prince Al Hussein bin Abdullah II on Wednesday expressed best wishes to Jordanian and Palestinian Christians on the occasions of Christmas and the New Year.
 
Speaking at a teleconference meeting with church leaders from Jordan and Jerusalem, and Islamic awqaf representatives, King Abdullah voiced hope that next year will bring blessings for all.
 
His Majesty reaffirmed that Jordan stands with the Palestinians and supports the steadfastness of Jerusalemites.
 
For his part, Crown Prince Al Hussein also paid tribute to the perseverance of Jerusalemites and their dedication to safeguarding holy sites despite all the challenges they face, expressing solidarity with the Palestinians and noting the King's statements on safeguarding holy sites as a religious duty.
 
Attendees reiterated the importance of the Hashemite Custodianship of Islamic and Christian holy sites in Jerusalem, commending His Majesty's position in defence of Jerusalem and its holy sites, and the King's efforts to promote interfaith harmony and coexistence.
 
Patriarch Theophilos III, patriarch of the Holy City and all Jordan and Palestine, expressed gratitude for His Majesty's efforts to protect Christian presence in the region.
 
"We are proud of the fact that our Patriarchate, the Mother of all Churches, along with our fellow Church Leaders, conduct our mission under the Custodianship of Your Majesty and the Hashemite Family. We are proud of this heritage and responsibility and we strive every day to implement this with integrity and commitment," Patriarch Theophilos III added.
 
In his remarks at the meeting, Apostolic Administrator of the Latin Patriarchate of Jerusalem Archbishop Pierbattista Pizzaballa noted the impact of the COVID-19 pandemic on celebrations this year, lauding Jordan's efforts, under Royal directives, especially medical personnel, security agencies, and the army, for maintaining the country's security and the wellbeing of its peoples.
 
Addressing the King, Archbishop Pizzaballa said, "Your Majesty, as Custodian of the Holy City, you remain our reference point in time of difficulties, as you seek justice and peace for the Holy City, transmitting to the world harmony and tranquillity."
 
Jerusalem Awqaf Department Director Mohammad Azzam Khatib highlighted the Hashemites' ongoing efforts to preserve and restore holy sites, such as the Dome of the Rock, as part of the Hashemite Custodianship, which dates back to 1917.
 
Khatib noted that the people of Jerusalem are proud of the Hashemite Custodianship and will not settle for an alternative, as it carries forward the legacy of the Pact of Omar, which set an example in interfaith harmony and mutual respect.
 
Royal Hashemite Court Chief Yousef Issawi and Adviser to His Majesty for Policies Haifa Khraisha attended the meeting.