Back to all Press Releases
His Majesty King Abdullah II, accompanied by Crown Prince Al Hussein, receives NASA Administrator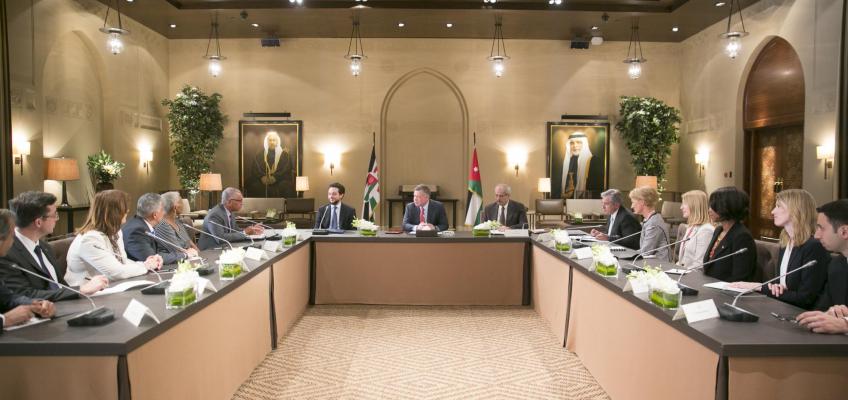 Amman -- His Majesty King Abdullah II on Wednesday received, in the presence of His Royal Highness Crown Prince Hussein, Administrator of the US National Aeronautics and Space Administration (NASA), Charles Bolden.

During the meeting in Al Husseiniya Palace, the King said Jordan looks forward to benefiting from NASA's programs and experience in the scientific field. He also spoke about possibilities for Jordanian educational and academic institutions to benefit from these programs.

His Majesty voiced appreciation for NASA's cooperation with the initiatives of Crown Prince Hussein to implement an academic exchange program for students of Jordanian universities to develop their skills.

Jordan is the first Arab country and one of 10 countries in the world to sign an agreement with NASA under which excelling Jordanian students would benefit from internships offered by NASA.

A group of Jordanian university students are working to develop a CubeSat after they obtained the necessary skills following a two-month training at NASA's Ames Research Centre upon an initiative launched by HRH Crown Prince Hussein.

Bolden highlighted the importance of the agreement between NASA and the Crown Prince's initiative and said he is looking forward to more cooperation to serve both sides.

The Crown Prince launched an initiative in 2014, initiating contact with NASA to secure training for excelling Jordanian students at the prestigious agency.