Back to all Press Releases
Deputising for King, Crown Prince attends Royal Jordanian National Defence College graduation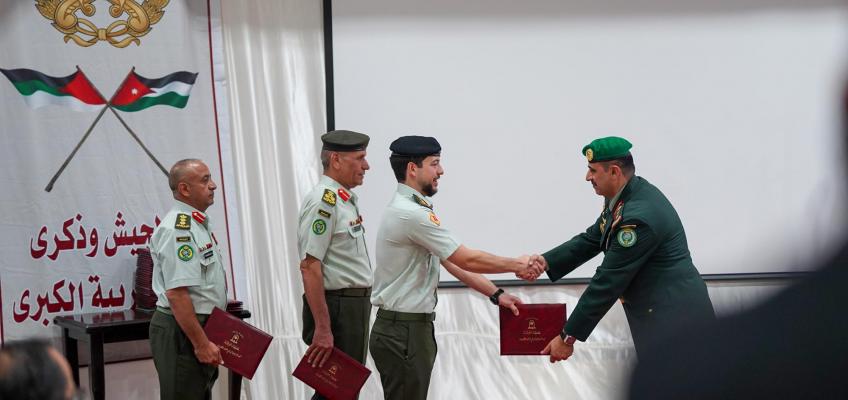 Deputising for His Majesty King Abdullah, the Supreme Commander of the Jordan Armed Forces-Arab Army (JAF), His Royal Highness Crown Prince Al Hussein bin Abdullah II on Monday attended the graduation of the 19th National Defence Programme, master's in "Management and Strategic Studies", and the 5th class of the master's programme in "Strategies to Confront Extremism and Terrorism", at the Royal Jordanian National Defence College.
Upon arrival, Crown Prince Al Hussein, accompanied by Prime Minister Bisher Khasawneh, was received by Chairman of the Joint Chiefs of Staff Maj. Gen. Yousef Hneiti.
His Royal Highness Prince Rashid bin El Hassan, General Intelligence Department Director Maj. Gen. Ahmad Husni, Public Security Directorate Director Maj. Gen. Hussein Hawatmeh, and the commandant of the college were also present to receive the Crown Prince.
The two programmes saw participation from JAF and security agencies' personnel, employees from ministries and national institutions, and officers from Saudi Arabia, Egypt, the United Arab Emirates, Qatar, Sudan, Pakistan, and the United States.
Crown Prince Al Hussein signed the guestbook at the college, expressing pride in the advanced level of its academic and military programmes.
Senior officials and officers, as well as ambassadors and military attachés attended the graduation.