Back to all Press Releases
Deputising for King, Crown Prince attends opening of third edition of World Youth Forum in Sharm El Sheikh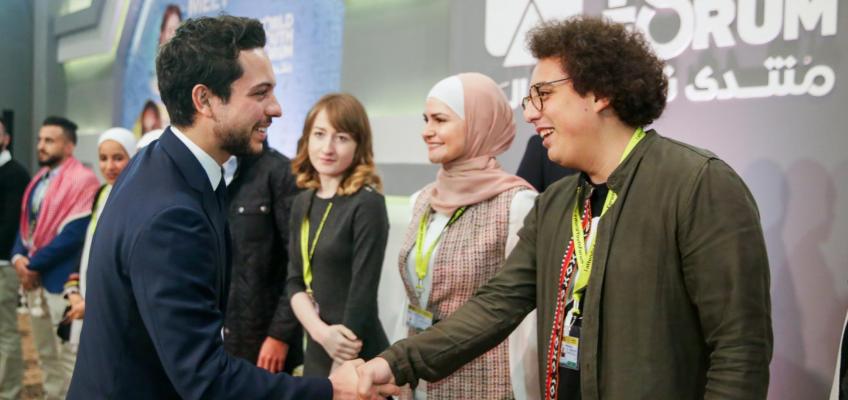 Deputising for His Majesty King Abdullah, His Royal Highness Crown Prince Al Hussein bin Abdullah II on Saturday attended the opening session of the third edition of the World Youth Forum, inaugurated by Egyptian President Abdel Fattah El Sisi at the International Congress Centre in Sharm El Sheikh.
Crown Prince Al Hussein was received by President El Sisi at the venue of the forum, which is held with the participation of experts and nearly 7,000 young men and women from around the world, including 70 from Jordan.
On the sidelines of the opening session, His Royal Highness met with young Jordanians participating in this year's forum and expressed pride in their efforts, wishing them success.
The young Jordanians briefed the Crown Prince on the sessions they will be participating in at the forum.
Speaking at the opening session, President El Sisi officially announced the launch of the forum, welcoming all participants and describing the World Youth Forum as a platform to send a message of peace and love to the world, based on constructive dialogue towards a better future.
The opening session also included remarks from participants from around the world, with a group of young people highlighting their experiences in turning challenges into opportunities.
In a video message played at the ceremony, United Nations Secretary General António Guterres stressed the important role of young people around the world.
Palestinian President Mahmoud Abbas, Senegal President Macky Sall, and Prince Khalid Al Faisal, advisor to the Custodian of the Two Holy Mosques and Governor of Mecca Region, in addition to Youth Minister Fares Braizat and Jordan's Ambassador to Egypt Ali Ayed, attended the opening session.
The World Youth Forum, launched in 2017, engages youth from around the world to enable them to exchange views on key global issues and recommend initiatives to top policymakers. This year's topics include the industrial revolution, food security, environmental challenges, women empowerment, and arts and cinema.