Back to all Press Releases
Crown Prince witnesses signing of MoU with Microsoft to develop Jordan's ICT sector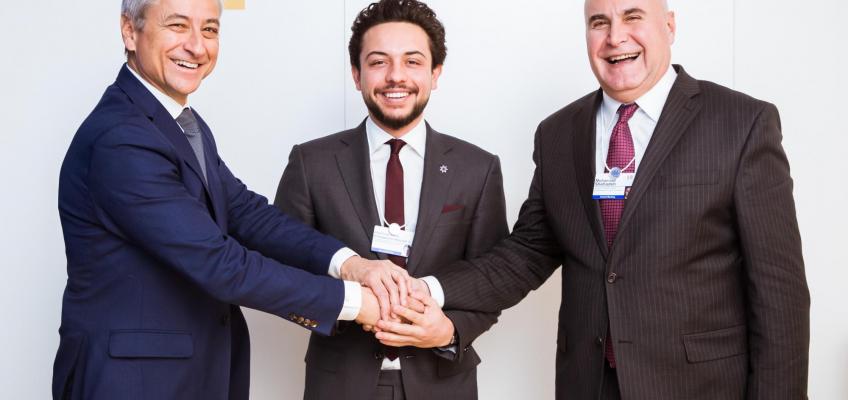 His Royal Highness Crown Prince Al Hussein bin Abdullah II on Thursday witnessed the signing of a memorandum of understanding between the Ministry of ICT, the Crown Prince Foundation, and Microsoft International, which aims to bolster cooperation in developing the ICT sector and enhancing relevant legislation and regulations.
The MoU—signed at the World Economic Forum Annual Meeting in Davos, Switzerland, in the presence of Jean-Philippe Courtois, Microsoft President, Executive Vice President and Head of Sales, Marketing and Operations—covers cooperation in cybersecurity and nurturing creativity, innovation, entrepreneurship and technical and vocational education in Jordan.
It is also aimed at supporting the digital transformation process in Jordan through artificial intelligence technologies, and the formulation of a set of policies related to the sector, including the Internet of Things, AI and block chain technology.
Cooperation under this MoU will encompass capacity building in the fields of AI, the Internet of Things, data classification, cloud computing and human resources training.
This memorandum will result in a joint roadmap for the adoption and implementation of digital services in sectors of priority for the Government of Jordan, and the provision of technical assistance to the Ministry of ICT in the compilation and classification of governmental data, along with the mechanism to implement an open data and data management regulatory framework for the government.
Support will also include working in partnership with the Crown Prince Foundation to develop a system that utilises AI solutions while empowering young Jordanians in this field and honing their digital skills.
The Crown Prince Foundation will be implementing the MoU over three stages. First, building the capacity of local software providers to reach 1,000 youths in skill building.
The second stage will be to identify 5-10 emerging software development companies (start-ups), link them with business accelerators and investors in AI, enhance their involvement in global platforms such as the Emerge 100 Start-up Conference, and establish the 21st Century AI Skills Lab (AppFactory).
The third stage will entail creating an electronic platform to expand the scope of work and reach about 500 IT and software companies, and some 16,000 programmers and developers, in addition to 50 start-ups.