Back to all Press Releases
Crown Prince witnesses signing of MoU between CPF, Arab Youth Centre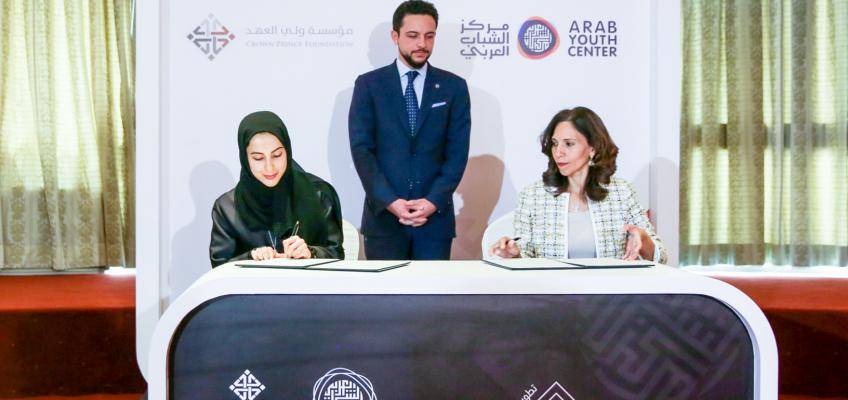 His Royal Highness Crown Prince Al Hussein bin Abdullah II, the Regent, on Thursday witnessed the signing of a memorandum of understanding between the Crown Prince Foundation (CPF) and the Arab Youth Centre, under which an integrated youth entrepreneurship hub will be established in Jordan as part of the centre's regional network of youth centres in the United Arab Emirates, providing incubators for youth creativity and innovation.
The new youth hub will provide a platform to build the capacities of Jordanian youth, hone their skills and utilise their potential in service of Jordan's progress and prosperity.
UAE Minister of State for Youth Affairs and Vice Chairperson of the Arab Youth Centre Shamma bint Sohail Al Mazrouei and CPF CEO Tamam Mango signed the MoU.
Under the memorandum, youth will be invited to submit proposals for the design of the hub's facilities, to ensure the implementation of a design that meets their aspirations and creative demands.
On the sidelines of the signing ceremony, Crown Prince Al Hussein attended a ceremony to announce the winners of the Youth Pitches initiative, launched by the CPF and the Arab Youth Centre in August and held for the first time in Jordan and for the fourth time at an Arab level, under the slogan "empowering and enhancing the economic role of women".
His Royal Highness was briefed on six of the projects that qualified to the final stages and featured the innovative use of technological solutions, interactive platforms and non-traditional participation of women in the labour market.
The Youth Pitches initiative, in its Jordanian edition, aims to showcase young Jordanians' talents, investing in their skills and abilities and supporting them in turning their innovative ideas into projects that contribute to Jordan's progress.
Monetary prizes were awarded to the top three projects by the Arab Youth Centre.
In remarks at the ceremony, the UAE minister of state for youth affairs highlighted the deep-rooted Jordanian-UAE relations and emphasised their leaderships' shared vision to promote youth engagement and capitalise on their potential. 
For her part, CPF CEO Mango noted the significance of the partnership with the Arab Youth Centre, expressing keenness to continue this cooperation in the interest of young Jordanians, especially women.
Amman Mayor Yousef Shawarbeh and UAE Ambassador to Jordan Ahmed Ali Mohammed Al Balushi attended the event.