Back to all Press Releases
Crown Prince visits Northern Badia Youth Centre, calls for developing youth programmes to cater to community needs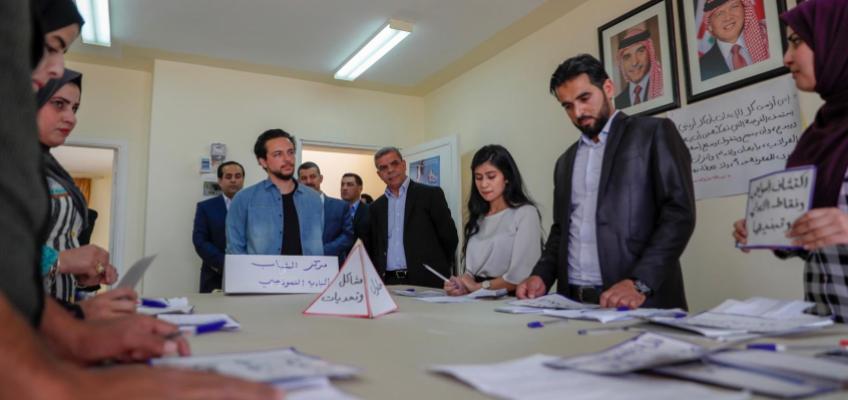 His Royal Highness Crown Prince Al Hussein bin Abdullah II on Sunday visited the Northern Badia Youth Centre in Mafraq Governorate, where he was briefed on training programmes and vocational workshops benefiting area residents.
During the visit, Crown Prince Al Hussein toured an exhibition of handicrafts by youth training at the centre, which was established in 2007 upon a royal initiative as the main centre encompassing 11 affiliated centres in the region.
His Royal Highness also attended part of a dialogue session on analysing His Majesty King Abdullah's discussion papers and highlighting their messages on empowering young people and increasing their engagement in community development.
The Crown Prince attended part of a training session on debates, and was briefed on a workshop to teach English through peer learning.
In addition, His Royal Highness was shown a short film and toured a photography exhibition on the Badia in the eyes of the local community.
The Crown Prince praised the Northern Badia Youth Centre's role in supporting young people and nurturing their talents, stressing the importance of developing youth programmes to meet community needs and interests, while empowering youth to actively participate in development.
At the centre, whose programmes have benefited around 10,000 young people so far, His Royal Highness, accompanied by Adviser to His Majesty and Director of the Office of His Majesty Manar Dabbas, met with Youth Minister Bashir Rawashdeh and other ministry officials.
The Crown Prince urged the ministry to follow up on the status of young men and women who complete training programmes to build their capacities, hone their skills, and nurture their creativity.
Rawashdeh highlighted the ministry's plans to enhance youth engagement by working with international organisations and the private sector to establish youth centres around Jordan and maintain follow-up on their activities and programmes.
The ministry's secretary general, Thabet Nabulsi, outlined the seven key elements of the National Youth Strategy (2018-2020), which are: education and technology, economic empowerment and innovation, health and sports, engagement and citizenship, communal peace and security, good governance, and the rule of law.
Nabulsi said the ministry devised the strategy, in cooperation with national and international organisations, as well as other ministries, based on recommendations by young people between the ages of 12 and 30.
Thamer Al Issa and Wafaa Shorofat, who have enrolled in the Northern Badia Youth Centre's programmes, spoke about their experience in contributing to the national strategy.