Back to all Press Releases
Crown Prince visits Al Sele Village, urges due attention to heritage, archaeological sites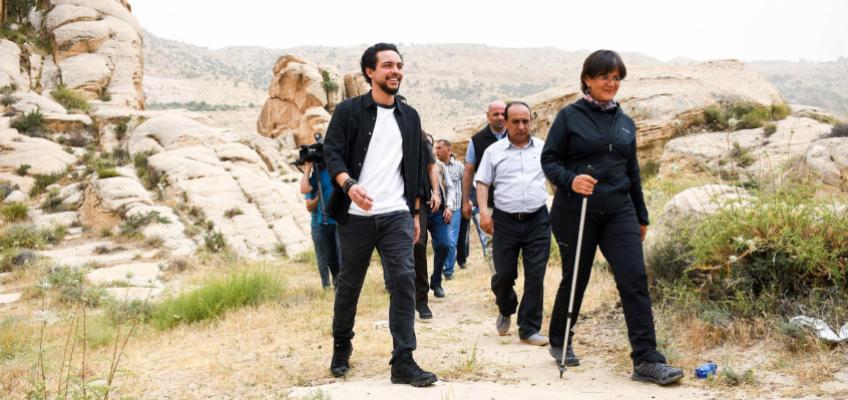 His Royal Highness Crown Prince Al Hussein bin Abdullah II on Thursday visited the village of Al Sele and its namesake castle, and was briefed on the Ministry of Tourism and Antiquities' plans to develop and promote the archaeological site, as well as enhance services offered to tourists and visitors.
At a meeting with the minister of tourism, acting Tafileh governor, Jordan Tourism Board (JTB) director, and a number of local community representatives at the castle's visitor centre, Crown Prince Al Hussein called for paying due attention to all tourist attractions and historical sites in Jordan, noting that each site can become a success story from economic and tourism-related perspectives.
His Royal Highness, who was briefed on progress in the tourism ministry's plan to develop the site and promote it as a tourist attraction, said Al Sele Village and Castle must become as popular for visitors as they are historically significant.
Located 16km south of Tafileh City, the castle features ancient drawings, sculptures and examples of ancient architecture, as well as an irrigation system.
Tourism Minister Lina Annab briefed the Crown Prince on measures the ministry is taking to restore a number of archaeological sites in Al Sele Village, as well as plans to develop lodging facilities for visitors and attract investors to improve services.
Annab said His Royal Highness' visit will bring more public attention to the archaeological site, which must be developed and positioned as a key tourist stop by linking it to other attractions like Dana and Petra.
She noted a rise in the number of visitors, with 9,000 people visiting Al Sele Castle so far this year.
During the visit, the Crown Prince also toured the castle.
In remarks to the press, JTB Managing Director Abed Al Razzaq Arabiyat said the board is working to promote Al Sele Village and its castle through social media and traditional media by inviting local and international bloggers and influencers to visit them.
Arabiyat said the castle and village can be promoted through the Jordan Trail, as destinations for adventure tourism.