Back to all Press Releases
Crown Prince, in surprise visit to Madaba school, checks on progress of 'Bassma' national summer programme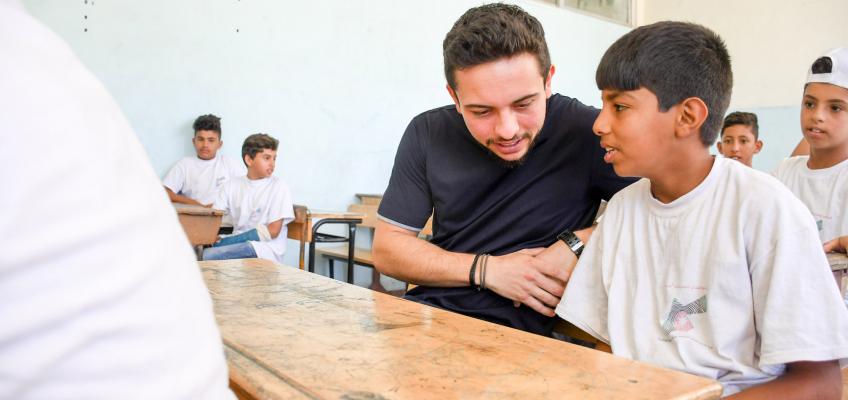 His Royal Highness Crown Prince Al Hussein bin Abdullah II on Wednesday paid a surprise visit to Zayd bin Haritha School in Madaba to check on activities held as part of national summer programme "Bassma".
"Bassma", in which 50,000 school students around the Kingdom are participating, is organised by the Ministry of Education in cooperation with the Crown Prince Foundation.
Crown Prince Al Hussein's visit was aimed at reviewing the programme's progress while encouraging students to actively contribute to their local communities and promoting volunteerism.
During the visit, His Royal Highness joined students attending a dialogue session on means to build their capacities in decision making and their openness to different opinions and perspectives.
At a session on "Humanitarian Values", attended by the Crown Prince, the discussion addressed the danger of extremism and ways to counter these dark ideologies with an awareness based on the tolerant values of Islam.
His Royal Highness also observed a workshop on public safety, held by Civil Defence Directorate personnel, and a military training course held by the Jordan Armed Forces-Arab Army.
The Crown Prince was shown activities held as part of the Sustainable Cultural Heritage through Engagement of Local Communities Project (USAID SCHEP), which seeks to enhance the importance of cultural heritage among schoolchildren and to raise their awareness of the importance of archaeological conservation.
During the visit, His Royal Highness commended the efforts of the institutions participating in and sponsoring the "Bassma" programme, which aims to channel students' free time into impactful activities that enhance volunteerism and nationalism.
The Crown Prince stressed the need to learn from experience in implementing the programme this year to develop it further by enriching its training programmes to better benefit students.
Around 30,000 boys and 20,000 girls in the ninth and 10th grades from 140 schools around Jordan are participating in "Bassma".
The programme, which started on 19 July and continues to 18 August, includes two cycles, each extending over two weeks.
Activities cover culture, art, sports, theatre, awareness programmes, and visits to tourist and archaeological sites to utilise students' free time during the summer holiday.
"Bassma" is aimed at equipping students with the tools of critical thinking, dialogue, and openness to other perspectives, as well as building their capacities and harnessing their creative energies while instilling the values of volunteerism and community service.
The programme is supported by a number of national institutions and agencies.