Back to all Press Releases
Crown Prince to participate in TechWadi Annual Forum in Silicon Valley, meets Jordanian entrepreneurs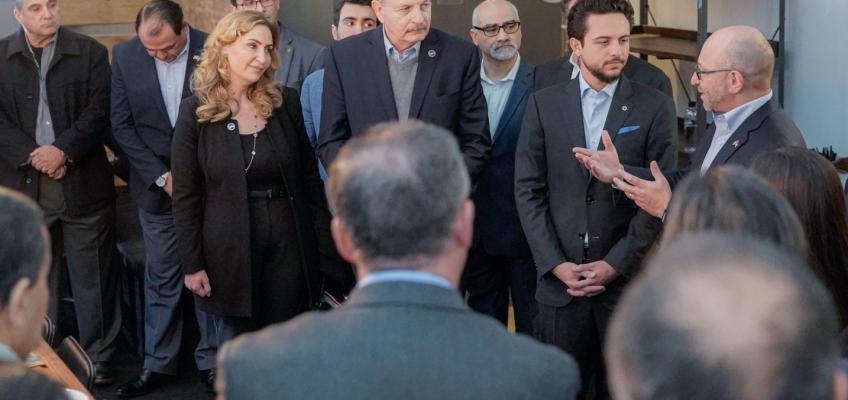 His Royal Highness Crown Prince Al Hussein bin Abdullah II will participate on Thursday in the TechWadi Annual Forum, which takes place in Silicon Valley, a hub of global technology companies.
 
Crown Prince Al Hussein will be the keynote speaker at the opening session of the forum, which will be attended by 400 representatives from international ICT companies, in line with His Royal Highness' efforts to enhance the role of Arab youth, and highlight Jordan as a leader in this sector.
 
ICT investment is vital to Jordan in providing employment opportunities for engineering and ICT graduates, who constituted 22 per cent of total university graduates last year.
 
The Crown Prince will hold a number of meetings on the sidelines of the forum organised by TechWadi, an organisation established in 2006 as a technology community for Arab American tech leaders and business people, with the aim of highlighting the role of Arab youth in the ICT sector.
 
On Wednesday, His Royal Highness met with a number of Jordanian entrepreneurs participating in the forum, and expressed pride in their achievements in the ICT sector, underscoring the capability of Jordanian youth to contribute to shaping the global tech landscape.
 
The Crown Prince also visited a group of leading technology companies, including Mixed Dimensions, started by Jordanians, praising the pioneering role it plays in 3D printing.
 
In addition, His Royal Highness visited the headquarters of Facebook, where he met with a group of Arab youth employees and was briefed on the latest developments in social media.
 
During the two meetings, the Crown Prince noted Jordan's progress in ICT and related services in the sector, especially in the areas of innovation and content creation.