Back to all Press Releases
Crown Prince meets Qatar emir in Doha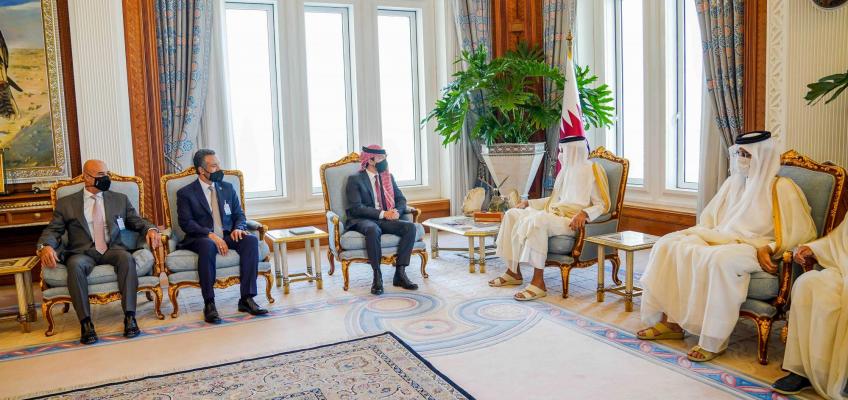 Doha—His Royal Highness Crown Prince Al Hussein bin Abdullah II on Monday met with Qatar Emir Sheikh Tamim bin Hamad Al Thani in Doha.
At the meeting, held at the Emiri Diwan, Crown Prince Al Hussein conveyed His Majesty King Abdullah's greetings to Sheikh Tamim, and his wishes of further prosperity and progress for the people of Qatar.
For his part, Sheikh Tamim conveyed his greetings to King Abdullah, commending His Majesty's efforts in strengthening Jordanian-Qatari relations.
His Royal Highness noted the importance of the partnership between the two countries, highlighting Jordan's interest in enhancing cooperation with Qatar in all fields, especially economy and tourism.
The Crown Prince discussed increasing job opportunities for qualified Jordanians in Qatar, noting that a number of Qatari students are enrolled at Jordanian universities.
His Royal Highness also commended Qatar's leading efforts, especially in holding Arab and international sports events, expressing pride in seeing an Arab country host a World Cup for the first time, and stressing the championship's importance in enhancing cooperation between the two countries, particularly in investing in the tourism sector.
During the meeting, attended by Deputy Emir of Qatar Sheikh Abdullah bin Hamad Al Thani, Sheikh Tamim expressed keenness on advancing bilateral cooperation and achieving economic integration, noting the shared positions by the two countries towards various issues and developments.
Tourism Minister Nayef Al Fayez, Investment Minister Khairy Amr, Jordan's Ambassador to Qatar Zeid Al Louzi, Crown Prince Office Director Mustafa Khalifeh, and a number of senior Qatari officials attended the meeting.