Back to all Press Releases
Crown Prince meets Arab leaders in Algeria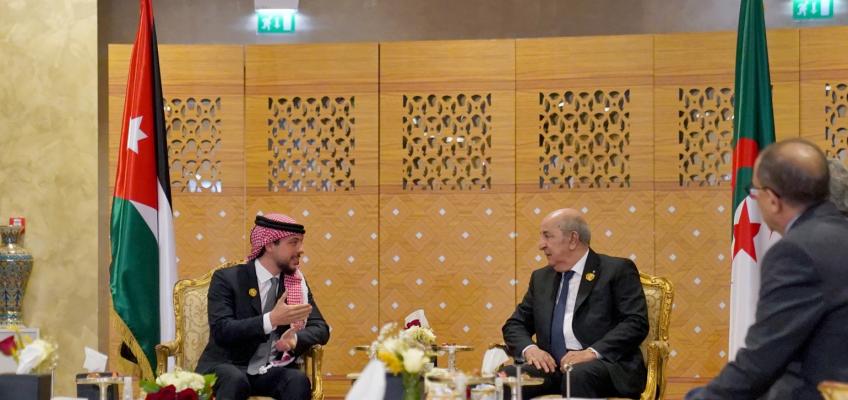 His Royal Highness Crown Prince Al Hussein bin Abdullah II on Wednesday held separate meetings with a number of Arab leaders, on the sidelines of the 31st Ordinary Session of the Council of the League of Arab States at the Summit Level.
Crown Princes Al Hussein met with Algerian President Abdelmadjid Tebboune, Egyptian President Abdel Fattah El Sisi, and Iraq President Abdul Latif Rashid.
His Royal Highness conveyed the greetings of His Majesty King Abdullah to the Arab leaders, who conveyed their greetings to His Majesty.
At the meeting with President Tebboune, the Crown Prince expressed appreciation of Algeria's efforts in organising the summit, voicing hope it would enhance Arab cooperation and joint action.
The meeting covered means of bolstering the deep-rooted ties between the two countries and peoples.
His Royal Highness also expressed best wishes to President Tebboune on the anniversary of the Algerian revolution.
The meeting with President El Sisi covered the strong relations between the two countries and peoples, as well as means of enhancing cooperation.
The two sides agreed on the need to maintain coordination and consultation on issues of mutual concern, in service of shared interests and Arab causes, foremost of which is the Palestinian cause.
His Royal Highness highlighted Jordan and Egypt as an example of regional integration, bilaterally and trilaterally with Iraq.
The Crown Prince pointed to the importance of holding the UN Climate Change Conference (COP27) in Egypt, expressing best wishes of success.
In another meeting, His Royal Highness and Iraq President Rashid discussed the deep-rooted ties between the two countries and ways to expand cooperation, on the bilateral and trilateral sides with Egypt.
The Crown Prince, who congratulated President Rashid on his election, noted that the trilateral mechanism with Iraq and Egypt represents a model for regional integration, stressing the importance of building on what has been achieved, while maintaining coordination, in service of Arab causes.
Deputy Prime Minister and Foreign Minister Ayman Safadi, the Kingdom's permanent representative at the Arab League Amjad Adaileh, Jordan's Ambassador to Algeria Shaker Amoush, and Director of the Office of the Crown Prince Zaid Baqain attended the meetings.