Back to all Press Releases
Crown Prince meets Al Azhar grand imam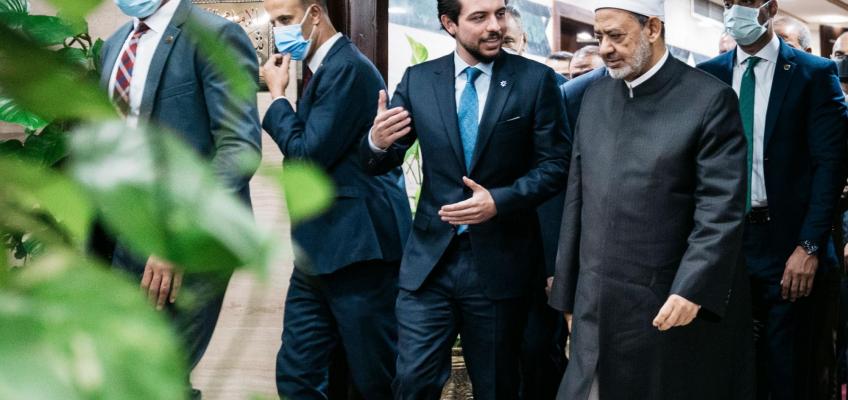 Cairo—His Royal Highness Crown Prince Al Hussein bin Abdullah II on Wednesday met with Grand Imam of Al Azhar Sheikh Ahmad Al Tayyib, at Al Azhar Al Sharif in Cairo.
Crown Prince Al Hussein conveyed His Majesty King Abdullah's greetings to the grand imam, who commended Jordan's role in defending Arab and Islamic causes, foremost of which is the Palestinian cause.
His Royal Highness praised the role of Al Azhar Al Sharif in highlighting the true image of Islam and promoting mutual understanding and harmony, stressing the importance of enhancing Jordan's cooperation with Al Azhar.
The Crown Prince noted the need to utilize social media to spread constructive ideas and hope among youth, urging more attention to young Arabs to create role models and leaders who can counter challenges and contribute to decision-making.
His Royal Highness thanked the grand imam for allocating five annual scholarships in scientific and medical specialties at Al Azhar University for Jordanian students.
For his part, Sheikh Ahmad said there is a need for youth leaders to embrace and promote peace, stressing the importance of qualifying young Arab leaders who can serve their countries and counter dark ideologies.
He also commended the Crown Prince's initiatives to support young people, noting that His Royal Highness is an example of a promising and exceptional young Arab leader.
Prime Minister Bisher Khasawneh, Jordan's Ambassador in Cairo Amjad Adaileh, and Crown Prince Office Director Mustafa Khalifeh attended the meeting.