Back to all Press Releases
Crown Prince launches 'FikrTech' youth collective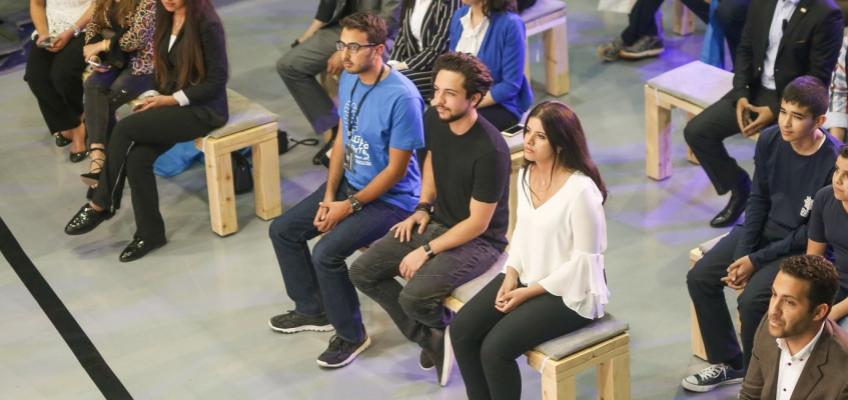 A number of young innovators showcased prototypes of their creative projects to His Royal Highness Crown Prince Al Hussein bin Abdullah II on Wednesday at the "FikrTech" Youth Innovation and Technology Collective, organised by the Crown Prince Foundation (CPF) at Ras Al Ain Hangar.
"FikrTech", which was launched by Crown Prince Al Hussein and continues for five days, is part of a series of activities that will be held across the governorates to create an interactive environment where CPF beneficiaries can showcase and share their projects and skillsets at hands-on workshops on innovation, space studies, and technology.
His Royal Highness was briefed by the organisers on the event's goals to encourage young people to exchange experiences and hone their skills by meeting with more than 20 Jordanian, Arab, and international figures who are specialists and influencers in their fields.
Touring the "FikrTech" venue, His Royal Highness observed workshops implemented by youth who are participating in CPF initiatives, and was shown a number of innovative initiatives in the areas of applied and satellite engineering, aerospace science, and digital manufacturing.
The Crown Prince joined a group of young men and women attending a session where Abdulrahman Asfour demonstrated innovative recycling methods.
His Royal Highness also sent an inspirational message to young people using technology on display at "FikrTech", and observed the event's activities through the lens of a camera drone, which is available at the Youth Innovation and Technology Collective to showcase the latest technology in photography.
"FikrTech", which features 60 young innovators as participants and is expected to attract 800 visitors per day, offers daily free workshops open to the public on coding, radio communications, robotics, Arduino single-board microcontrollers, building a solar charger, soldering electronic circuit boards, and other activities.
The event also includes pavilions on CPF's Masar, NASA Internship, Haqiq, and FabLab initiatives, as well as Al Hussein Technical University and the HelloWorldKids project.
Amman mayor, Director of the Office of the Crown Prince, and the acting CEO of the CPF accompanied the Crown Prince on the visit.
In an interview, Noor Abu Ragheb, the acting CEO of the CPF, said "FikrTech" is open to all young people in Jordan, noting that the event is aimed at showcasing the CPF's initiatives, enabling youth to know more about their goals and how to benefit from them.
The goals of "FikrTech" also include honing the skills and abilities of youth through various workshops covering innovative fields, Abu Ragheb explained.
Omar Aqtash, a young participant at "FikrTech" who has worked with his colleagues on a solar-powered phone charger, said the Youth Innovation and Technology Collective provides an opportunity for young innovators to exchange knowledge and expertise.
For his part, Hareth Hourani, an electrical engineering student, said he visited "FikrTech" to get a first-hand look at the latest technological innovations that can help hone his skills and enable him to join the labour market, expressing interest in a workshop on drone technology.
Noor Khatib, a beneficiary of the CPF's initiatives, said she is participating in a workshop on robotics, noting that many young people who are interested in science and technology have registered to participate in "FikrTech".