Back to all Press Releases
Crown Prince inaugurates TechWorks FabLab to unleash youth innovation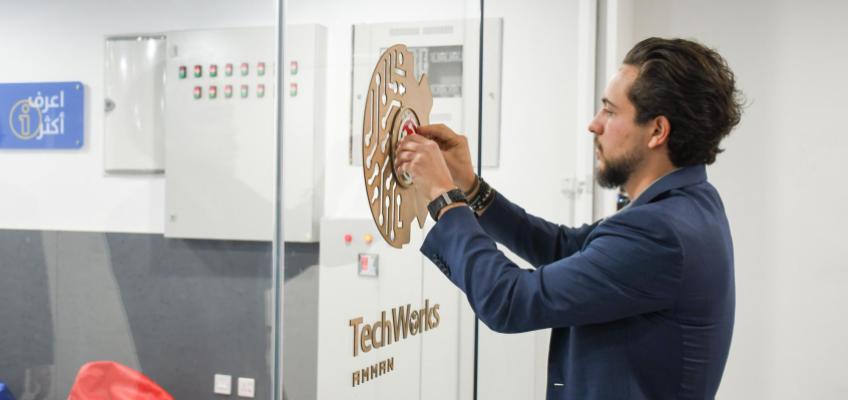 His Royal Highness Crown Prince Al Hussein bin Abdullah II inaugurated on Monday TechWorks fabrication lab (FabLab), an initiative of the Crown Prince Foundation (CPF) aimed at unleashing the innovation and creativity of young Jordanians.
The digital FabLab is equipped with the technology to promote technical education and bring together youth, ideas, and resources to unleash the power of Jordan's innovation ecosystem.
TechWorks is an innovation platform for youth, entrepreneurs, makers, industry, communities andcreators that provides a sustainable, highly integrated ecosystem encompassing the entire innovation process, from discovery to design, development and commercialization
During his visit to TechWorks, Crown Prince Al Hussein stressed the importance of supporting and empowering young Jordanian innovators,and providing capacity-building programs for them.
Innovation, His Royal Highness affirmed, is a cornerstone of economic development in Jordan.
The Crown Prince listened to a briefing by CPF CEO Tamam Mango on the FabLab's facilities.
Mango said TechWorks will enable researchers, students, and inventors to manufacture prototypes of their products using cutting edgedigital fabrication technology.
His Royal Highness toured the 3D Printing Center of Excellence, equipped through support by His Majesty King Abdullah, and other facilities at the FabLab.
Crown Prince Al Hussein was shown a number of projects implemented by young Jordanians utilizing the technology and tools provided by TechWorks, such as a project to reverse-engineer spare parts for classic cars, solar-powered phone chargers, a smart home automation system, drones, and a driverless car.
Pioneered by the Massachusetts Institute of Technology, FabLabs are small-scale workshops equipped with digital tools that enable users to design and fabricate products, based on innovative, creative ideas.
In a press interview, CPF CEO Mango said TechWorks is in line with the CPF's vision to support youth and harness their skills and talents.
Mango added that the CPF seeks to provide training programs at the FabLab for young Jordanians from around the Kingdom.
TechWorks Director Musa Abu Khalaf said the FabLab's vision is to turn consumers into producers who can design and execute various innovative ideas.
TechWorks personnel will visit areas around Jordan to discover young Jordanian talents and ensure these talents are invested in and motivated to create and innovate.
Raad Kloub, a student who has benefited from TechWorks' facilities and training programmes, said the training has enabled him and his classmates to come up with and execute innovative ideas.
Kloub'sproject is a smart home automation system operated by a Bluetooth application for smartphones.