Back to all Press Releases
Crown Prince inaugurates renovated Theeban Youth Centre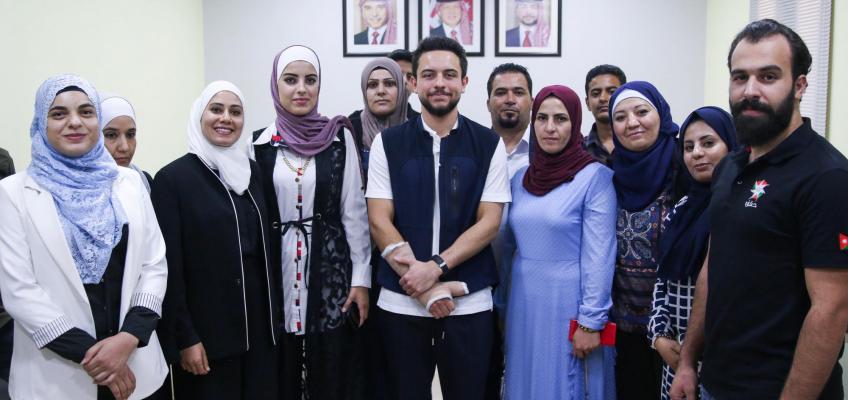 His Royal Highness Crown Prince Al Hussein bin Abdullah II, the Regent, on Thursday inaugurated the Theeban Youth Centre in Madaba after it had been renovated by the Crown Prince Foundation (CPF), in line with His Royal Highness' directives to modernise a number of youth centres around the Kingdom to meet the requirements and desires of young people.
Crown Prince Al Hussein's directives are geared towards turning youth centres into excellence incubators, as well as building the capacities of young Jordanians, stemming from His Royal Highness' belief in the abilities of Jordanian youth and their important role in the service of the nation.
During the ceremony, the Crown Prince stressed that youth centres are important platforms for youth development, pointing out that the rehabilitation of the centre is part of a broader initiative adopted by the CPF.
In its first phase, the initiative included the renovation of three youth centres, in the Kingdom's three regions, and the implementation of various training courses to build the capacities of youth in their local communities.
On a tour of the facilities, which consists of a theatre, a training room, a gym, recreational space, a computer lab and a vocational training room, His Royal Highness was briefed on the centre's programmes and events, including workshops held in partnership with the CPF's Haqiq initiative dedicated to youth empowerment, entrepreneurship and volunteerism.
The Crown Prince was also briefed on the training courses provided by the CPF's TechWorks initiative at the centre's computer lab, focusing on design and 3D printing.
Moreover, His Royal Highness heard first-hand from trainers and participants about the importance of the centre and the positive impact created by the courses it offers.
Also on Thursday, Minister of Culture and Minister of Youth Mohammad Abu Rumman and Minister of Digital Economy and Entrepreneurship Mothanna Gharaibeh inaugurated the two other youth centres renovated by the CPF in Irbid and Karak.