Back to all Press Releases
Crown Prince honours PWD among marathon champions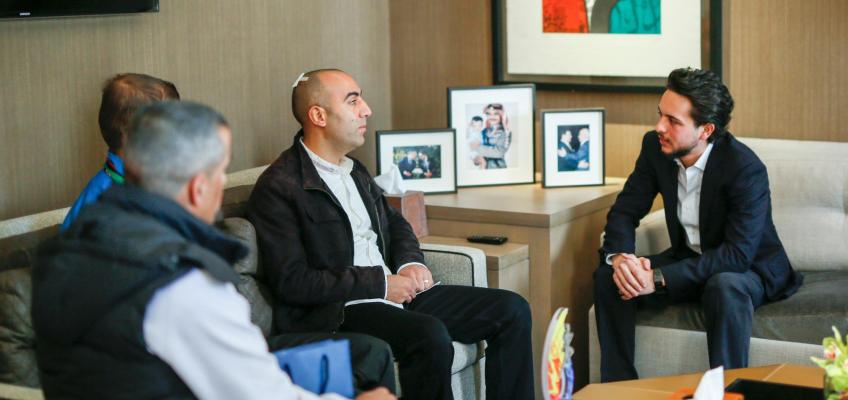 HRH Crown Prince Hussein on Tuesday received Jordanians with disabilities who made remarkable achievements at international Beirut Marathon, which started on November 8. 
His Highness congratulated Suhail Nashash, Nabil Maqableh and Ali Sawalmeh for the advanced positions they achieved among People with Disabilities (PWD) participating in the thirteenth edition of the silver-labelled international running event.
Crown Prince Hussein expressed pride in the "distinguished group of young people who were not discouraged or frustrated by their disabilities, thus representing, along with other Jordanian young people, a model in giving and distinction", and making Jordan proud.
Crown Prince Hussein stressed his readiness to provide all technical support and training needed to these young men to achieve further success and distinction, and to achieve advanced positions in future sport or athletic contests.
He stressed the importance of sports for PWD, in particular, as taking part in such competitions enhances their ability to overcome challenges.
More than 37,000 runners from 17 countries across the world participated in the marathon, including world and Olympic champions.
The running event has been recently awarded Silver Label status by the International Association of Athletics Federations.
Nashash won first place in the 42km (run) race for the blind, and is scheduled to participate in the 2016 Summer Olympics and Paralympics, to be hosted by Rio de Janeiro.
As for Sawalmeh, he won the first place in the 42km wheelchair race, while Maqableh won first place in the 10km race.