Back to all Press Releases
Crown Prince checks on quality of services at Hearing Without Borders' Cochlear Implant Unit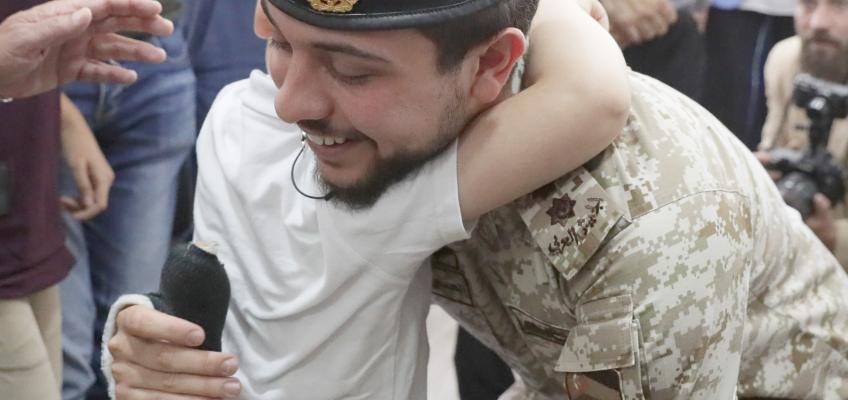 His Royal Highness Crown Prince Al Hussein bin Abdullah II on Wednesday checked on the quality of services at the Cochlear Implant Unit at Al Hussein Medical Centre, part of the Crown Prince Foundation's (CPF) Hearing Without Borders initiative. 
The Hearing Without Borders initiative aims to provide medical support to the hearing impaired in Jordan through cochlear implants, covering the costs of the operation and postoperative exams as well as securing the batteries and parts needed to operate the implants.
Crown Prince Al Hussein checked on the young patients who benefited from the initiative, which has served 1,170 children since its launch in 2014, 58 of whom received their implants since the beginning of 2019. 
His Royal Highness expressed appreciation and support for the efforts of the medical team at the Cochlear Implant Unit, stressing the importance of expanding the scope of the initiative to reach the largest number of beneficiaries.
The Cochlear Implant Unit is a comprehensive centre that acts  as a first point of contact for the Hearing Without Borders initiative beneficiaries, carrying out the necessary medical tests needed to detect their eligibility for implants.
The Crown Prince, accompanied by Royal Medical Services Director Maj. Gen. Shawkat Tamimi, toured the unit's facilities and was briefed by CPF CEO Tamam Mango on the procedures utilised to provide the best services to patients and fulfil the objectives of the initiative.
The tour also included the clinic where the medical tests take place, which is equipped with modern medical equipment, including an endoscopy unit.
Moreover, His Royal Highness visited two rooms dedicated to speech and hearing rehabilitation to help cochlear implants patients acquire speech skills and to calibrate their hearing aids.
The Crown Prince also visited the unit's waiting room and play area.
Highlighting future steps, CPF CEO Mango said the Hearing Without Borders initiative's plans include building three new speech and hearing rehabilitation rooms in the Kingdom's three regions and training 30 new therapists, as well as implementing an awareness campaign to shed light on issues related to hearing impairments.
Al Hussein Medical Centre was chosen as home for the Cochlear Implant Unit because it is a comprehensive medical centre equipped with the necessary capacities. It was also the site of the first cochlear implant operation in Jordan in 2003.