Back to all Press Releases
Crown Prince chairs part of Cabinet meeting to follow up on implementation of Royal directives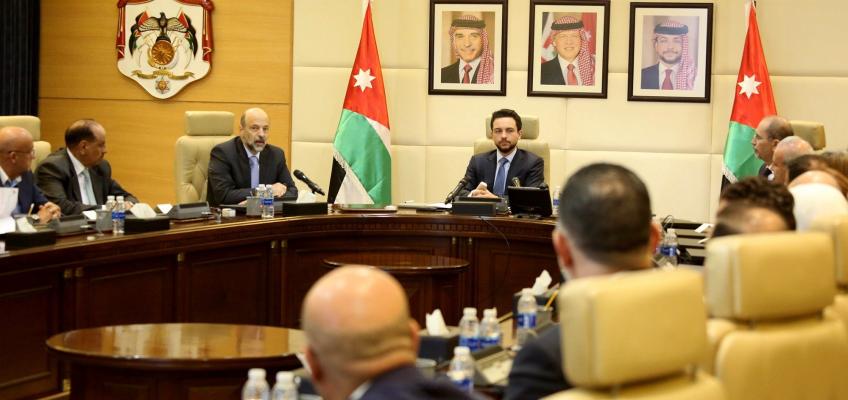 His Royal Highness Crown Prince Al Hussein bin Abdullah II, the Regent, chaired part of a Cabinet meeting on Tuesday, to follow up on the government's plans to implement Royal directives on a number of projects, especially those related to improving services and generating job opportunities for youth.
Speaking at the meeting, which coincided with the 10th anniversary of the naming of His Royal Highness as Crown Prince, Crown Prince Al Hussein stressed the need to establish a comprehensive framework and clear timeframe to ensure the implementation of the projects.
Stressing the important role of youth, His Royal Highness called for providing them with the support they need, and harnessing their energy and potential, in addition to involving them in decision-making.
The Crown Prince emphasised the importance of supporting young Jordanians in establishing SMEs, noting that empowering and training them to secure employment opportunities is a priority for the future of Jordan.
His Royal Highness called for developing and modernising youth centres around the Kingdom to address the needs of young people.
Achieving national goals requires new, non-traditional ways to boost the economy and restore confidence in it, the Crown Prince added, through intensifying efforts to attract investments and develop vital sectors.
His Royal Highness stressed the importance of improving services, especially public transport due to its role in facilitating the movement of Jordanian citizens around the Kingdom, and enabling women to enter the labour market.
Turning to the tourism sector, the Crown Prince said Jordan is rich in tourist attractions and archaeological sites, which calls for developing the sector's infrastructure to become more attractive to local, Arab, and foreign tourists.
His Royal Highness also underscored the importance of involving local communities in the development of the tourism sector to become effective partners.
Speaking at the meeting, Prime Minister Omar Razzaz extended his best wishes to His Royal Highness on the occasion of the 10th anniversary of his naming as Crown Prince.
Prime Minister Razzaz said the government is giving youth its full care and attention, in line with His Majesty King Abdullah's directives and in implementation of the Crown Prince's vision.
The prime minister said all ministries have their programmes in this field, especially towards employment, entrepreneurship, and civic and political engagement.
Prime Minister Razzaz also outlined the government's plans to attract investments and tourists, and enhance services offered to the public, noting that clear performance indicators will be used to transparently assess performance and achievements.