Back to all Press Releases
Crown Prince calls for bolstering Jordan's capacities in COVID-19 testing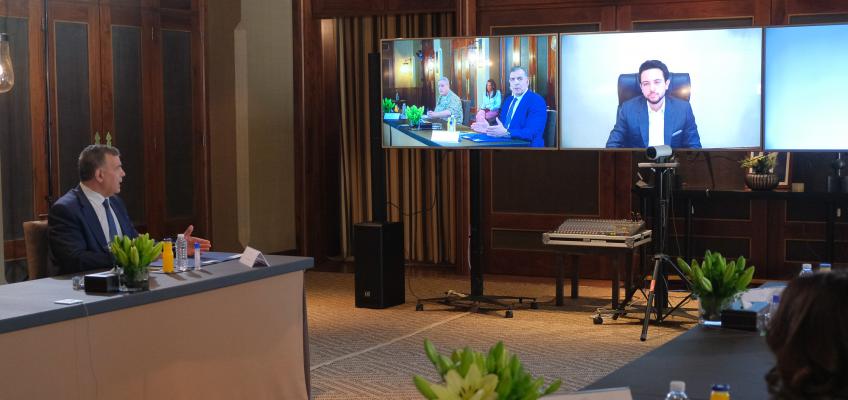 His Royal Highness Crown Prince Al Hussein bin Abdullah II on Tuesday stressed the need to bolster Jordan's capacities in the area of coronavirus disease (COVID-19) testing kits.
Chairing a meeting via teleconference to discuss COVID-19 preventive measures, Crown Prince Al Hussein called for stepping up lab tests to provide an accurate assessment of the epidemiological situation and limit the spread of the virus.
His Royal Highness commended efforts to produce COVID-19 detection kits locally, noting the impact of expanding testing on sustaining operations in all sectors.
The Crown Prince underscored the importance of collaboration among all stakeholders to safeguard Jordan from the pandemic.
Health Minister Saad Jaber, Royal Medical Services Director Brig. Gen. Adel Wahadneh, Crown Prince Foundation (CPF) CEO Tamam Mango, and the director of the Ghiath and Nadia Sukhtian Foundation attended the meeting.
The Sukhtian Foundation is conducting research and development to produce COVID-19 testing technology locally, in cooperation with Billion To One, the developer of a protocol, pending the US Food and Drug Administration's approval, to detect the virus using its genetic sequence.
CPF initiative TechWorks, contributes, through 3D printing technology, to the production of medical equipment used in detection kits at the laboratories of the King Hussein Medical Centre, in cooperation with the private sector.
Producing COVID-19 detection kits locally will help increase the number of tests conducted on a daily basis, at a lower cost.