Back to all Press Releases
Crown Prince attends youth debate on "University Education vs. Vocational and Technical Education"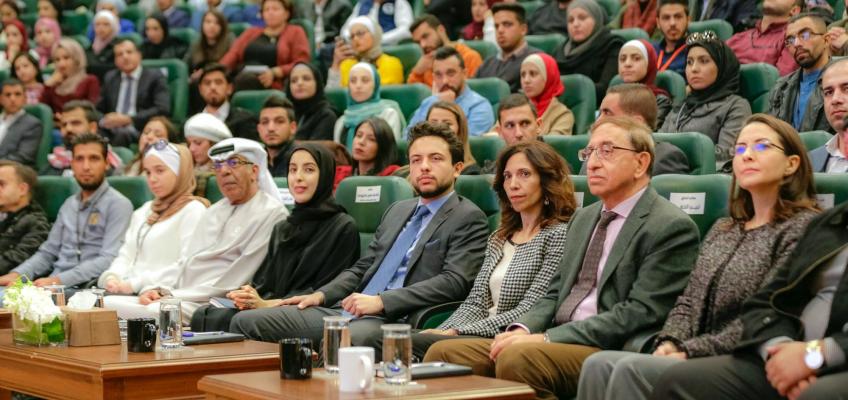 His Royal Highness Crown Prince Al Hussein bin Abdullah II, the Regent, on Wednesday attended a youth debate on "University Education vs. Vocational and Technical Education", the first in a series of debates.
Two teams of young Jordanians participated in the debate, held by the Crown Prince Foundation (CPF) and the Arab Youth Centre (AYC), a UAE youth organisation, and attended by UAE Minister of State for Youth Affairs Shamma Al Mazrui and around 500 young people from around Jordan.
The debate highlighted the differences and similarities between university education and vocational and technical education, and shed light on issues related to honing youths' skills and building the capacities of human resources in Jordan.
The team supporting academic education described it as the cornerstone of technical and vocational training, while the team arguing for vocational training said it is better designed to cater to labour market needs.
At the conclusion of the debate, Crown Prince Al Hussein praised the rich discussion and the civil dialogue employed by the two teams to present their points of view.
His Royal Highness stressed the importance of building the capacities of young Jordanians, empowering them, and enhancing their role in development.
The Crown Prince voiced confidence in the abilities of young Jordanians to build a better future.
The debate is under the framework of the partnership between the CPF and the AYC, which is aimed at organising joint activities to engage youth in the development process and hone their skills through discussions and debates on key socioeconomic topics that enable them to express themselves.
The CPF seeks to empower young Jordanians and enable them to achieve their aspirations by encouraging their active civic engagement to effect positive change.
The foundation's initiatives target thousands of young people from all governorates, nurturing their skills in innovation, entrepreneurship, leadership, and community service.
The AYC, through projects and initiatives in Arab countries, seeks to give young Arabs a major role in building the region's future and organises forums and events to highlight issues concerning them.