Back to all Press Releases
Crown Prince attends launch of Jordanian-Swedish Trade and Investment Forum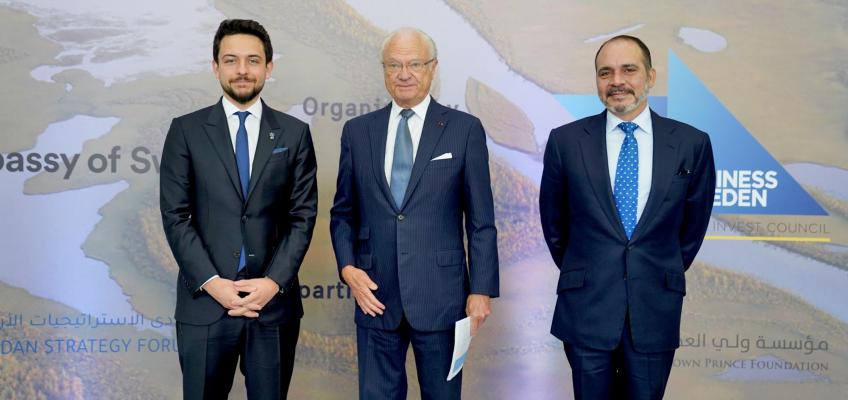 His Royal Highness Crown Prince Al Hussein bin Abdullah II on Wednesday attended the launch of the Jordanian-Swedish Trade and Investment Forum, which was held under the patronage of His Majesty King Carl XVI Gustaf of Sweden.
The forum saw the participation of 12 Swedish companies specialised in the fields of energy, healthcare, chemicals, and engineering, as well as more than 400 representatives from Jordanian private sector companies, including 30 companies with joint business operations with Sweden. 
The forum, held at the King Hussein Business Park and attended by His Royal Highness Prince Ali bin Al Hussein the escort of honour to King Carl XVI Gustaf, featured several success stories by Jordanian and Swedish business leaders. 
The event also witnessed the launch of the Swedish-Jordanian Business Network, which includes companies from the private sectors in the two countries and aims to bolster economic cooperation in investment and entrepreneurship.
Speaking at the forum, Minister of Investment Kholoud Saqqaf highlighted the solid economic ties between the two countries, noting it resulted in a number of Swedish investments in Jordan. 
Saqqaf said these investments are mainly in industry, petrochemicals, pharmaceuticals, ICT, and logistics, and have contributed to creating more than 1,000 jobs, 40 per cent of which are filled by women. 
For his part, Swedish Foreign Minister Tobias Billström underscored the tremendous potential for expanding bilateral trade and investment with Jordan, and stepping up tourism exchange. 
Billström stressed sustainable, green and smart solutions as key to the future, pointing out that climate change is the biggest environmental threat facing current and future generations.
At the end of the event, the Swedish foreign minister and Ambassador of Sweden to Jordan Alexandra Rydmark presented certificates to the graduates of the Swedish Institute's SHE Leadership Programme, which offers the latest theoretical and practical insights into innovative leadership techniques for women in Jordan. 
The forum was held by Business Sweden and the Swedish embassy in Jordan, in partnership with the Crown Prince Foundation and the Jordan Strategy Forum.
Minister of Planning and International Cooperation Zeina Toukan, Jordan's non-resident Ambassador to Sweden Muhib Nimrat, and Director of the Office of the Crown Prince Zaid Baqain attended the forum.